G9 illuminant
The compact G9 illuminant is used in small spots and luminaires that have a corresponding G9 base. Originally, only G9 halogen bulbs were used for this type of base. In the meantime, modern technology has taken over the market - G9 LEDs score with even higher energy efficiency and better light quality. Learn everything you need to know about G9 lamps and what you need to consider when buying your new bulbs.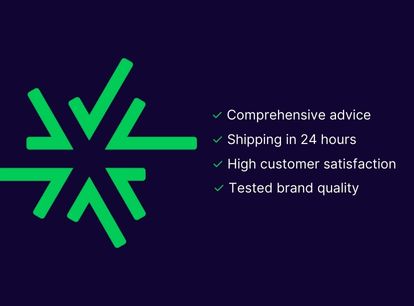 Comprehensive advice & support

over 10,000 articles in the shop
Shipping in 24 hours

thousands of satisfied customers

KATHRIN BRANDT
Employee Purchasing from Troisdorf
Great advice and friendly service. I was helped immediately and competently with any questions. Gladly again.

OMAR NASER
Office Manager from Frankfurt a.M.
Goods are well packaged and arrive safely, which is important to me. My mail was answered immediately.

RAINER SEIDEL
Master carpenter from Wiesbaden
Had to replace a lamp, but it was no longer available. Great advice, found a suitable replacement and delivered it quickly.
G9 - history and special features
In the past, the G9 bulb used only halogen technology. It was possible to compress high-voltage halogen bulbs to the smallest dimensions, so the pin-base lamps are used wherever small light sources are needed. The light source is used in private areas, offices and practices, showrooms and museums. Due to their compact design, G9 lamps are also a popular choice for refrigerators, ovens, reading lamps or table lamps.
The designation G9 derives from the material, glass and the spacing of the pins on the pin base: 9 millimeters. Unlike other bipin bases, the pins of G9 bulbs are bent in a U-shape. Another distinctive feature is that G9 lamps do not have a reflector.
G9 - Halogen vs. LED
High-voltage halogen lamps score with brightness and excellent color rendering of up to CRI 100. In addition, the small light sources are dimmable by default. This is not always the case with LED G9. Whether your new LED light source can really be dimmed, you can find out from the article description or the technical data.
LED technology is now also gaining acceptance for G9 lamps. The technology promises long-lasting operation with maximum efficiency and excellent light values. LEDs with G9 lamp base are specially designed for use in lamp sockets of high-voltage lamps. The replacement is worthwhile because the LEDs offer maximum flexibility in terms of color temperature, which is not available with halogen lamps. Thus, G9 LED in desk lamps allow healthy HCL light, which positively affects health and performance).
Advantages of LED G9 lamps at a glance
low power consumption

long service life

flexibility in terms of light color

excellent light quality

possibility to dim

frosted bulbs available
Replace G9 halogen bulbs with LEDs
You can easily replace your G9 halogen one-to-one with modern G9 LEDs. However, you need to consider some criteria when choosing. For halogen bulbs, "watts" is the primary feature to consider to determine brightness. With LED bulbs, the wattage is rather unimportant, the luminous flux specified in lumens gives you information about the luminosity of the LED G9 lamp. In this way, you can find a LED replacement that will shine with similar brightness after replacement.
Buying criteria of LED G9
To find the right bulb for your application, you need to consider some features.
Luminous flux
Unlike halogen bulbs and watts, you can tell the brightness of LED G9 by the number of lumens.
Light color
Kelvin indicates the color temperature. For working areas, it is worth to choose cold white light, similar to daylight, while in private areas, for example in your bedside lamp, you should choose warm white lighting.
Dimensions
LED G9 bulbs can have different sizes. This is because LED lamps should not get too hot. Halogen lamps do not mind heat (for example, in oven lighting). As a solution, manufacturers resort to making LED G9 lamps slightly longer so that they can dissipate heat better. So before buying, you should check whether the new light source has the right dimensions.
Order G9 lamps at WATT24
In our store you will find a selection of G9 bulbs from well-known manufacturers such as OSRAM or Farluma. You have the choice between halogen or LED and matt or clear bulbs. We also have different light sources especially for ovens in our assortment.
If you have any questions about our products or difficulties in choosing the right G9 bulb, our lighting experts will be happy to help you.