Motion Detectors
Motion detectors, or presence detectors, are true classics among lighting controls. However, the term is somewhat misleading. The most common type of motion detector does not react to movement in the environment, but to heat radiation.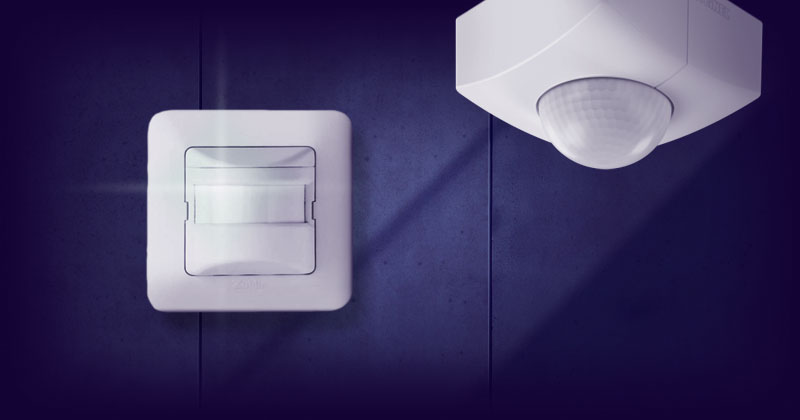 Comprehensive advice & support

over 10,000 articles in the shop
Shipping in 24 hours

thousands of satisfied customers

KATHRIN BRANDT
Employee Purchasing from Troisdorf
Great advice and friendly service. I was helped immediately and competently with any questions. Gladly again.

OMAR NASER
Office Manager from Frankfurt a.M.
Goods are well packaged and arrive safely, which is important to me. My mail was answered immediately.

RAINER SEIDEL
Master carpenter from Wiesbaden
Had to replace a lamp, but the same was no longer available. Great advice, found a suitable replacement and delivered it quickly.
Types of motion detectors
Depending on the application, different types of sensors are best suited: in sanitary areas it is convenient if the detector reacts even through thin doors. In outdoor areas, it is advantageous if not every slightest movement is switched.
Passive infrared sensors use infrared technology and respond to temperature changes and heat sources in the environment. They are ideal for indoor and outdoor applications.
High frequency or radar sensors work with electromagnetic waves. This means they even work through thin walls or doors.
Ultrasonic motion detectors
Work with sound waves and are best suited for indoor use.
Operate by means of electronic analysis of image data and are suitable for outdoor and indoor use.

Advantages of motion detectors
Switching lamps manually was yesterday! Especially if the light switch is not immediately accessible (large halls, long corridors, outdoor areas) or if you simply have your hands full, a motion detector makes your life much easier.
Motion detectors only switch on your light sources when necessary. This saves you both energy and money.
Bright, automatic lighting ensures safe paths around your application. Light attracts mosquitoes, but deters unwanted guests. Sensor-controlled alarm systems provide additional security for your home or business. There are models that sound a signal or use light to make it visible as soon as movement is detected.
The right detection area
The detection angle and the detection range of your motion sensors depend on the area of application.
Installed at entrances, a detection angle of 90° is often sufficient, at house walls 180° is recommended. When installing in the middle of the room, you should pay attention to a detection range of 360°. This way, your motion detector will switch on your lamps no matter from which direction it detects movement.
The detection range depends on the size of the area to be equipped. In the residential sector, the range often doesn't need to be as high as it is when motion detectors are used commercially. After all, switching lights too often can be quite annoying due to the reaction to things moving in the distance. Many presence detectors have what is called under-creep protection. This means they do not react to small animals.
In general, try it out and adjust appropriately.
How long should the light stay on?
Most devices offer flexible setting options according to your needs.
In principle, the light duration must be sufficient for the duration of use of the illuminated application.
Experience and trial and error are the watchwords here, too.
Motion detector for indoors or outdoors?
Both! In outdoor areas, the safety aspect plays a primary role. Detect tripping hazards in dark corners at an early stage and thus reduce the risk of injury. And prevent burglars from being tempted in the first place. To ensure that your motion sensors outside work optimally and for a long time, you should pay attention to the appropriate IP protection type and protection class.
Motion sensors inside are clearly worthwhile because of their efficiency! Especially in rooms where the light is often left on "accidentally", the installation of motion sensors is a worthwhile investment.
Tip: You want your light to turn on automatically in the dark, even if there are no people in the immediate vicinity? Then discover our practical and efficient twilight switches.
In our shop you will find high-quality motion detectors for various purposes from high-quality manufacturers such as Steinel, Züblin and Theben.