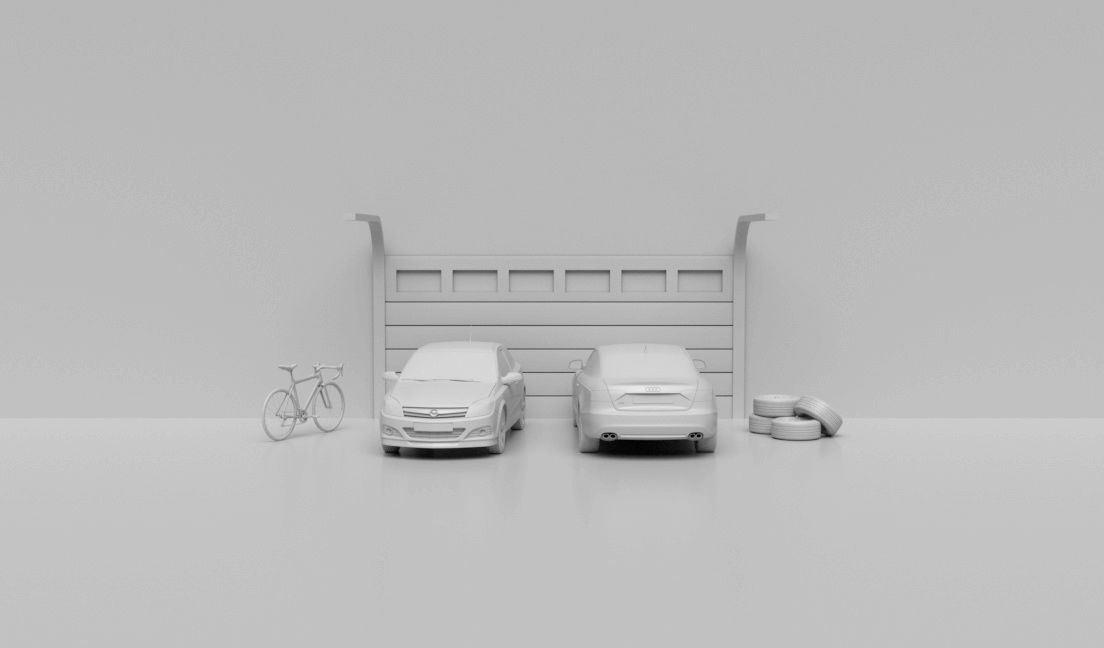 First and foremost, garages serve as parking spaces for cars. However, there is also room for tools, garden tools, bicycles and garden furniture. In order to keep an overview, bright lighting is desirable. And the driveway and the paths around your garage should also be well lit. This reduces the risk of accidents. How you can best implement this and why you should rely on LED, you can find out from the lighting expert.
✓ high-quality interior lighting
✓ safe outdoor lighting
✓ Efficiency and durability thanks to LED technology
✓ Safety and comfort
In the past, fluorescent tubes were often used for garage lighting. They scored with brightness at high efficiency.
However, fluorescent tubes also have some disadvantages: at low temperatures they tend to start slowly and flicker. It can then take a while until the full luminosity is reached.
Modern LED luminaires do not have to struggle with this problem. Even at sub-zero temperatures, they provide full luminosity immediately after switching on.
They also score points for flexibility, maximum energy efficiency and long service life. This means that the investment costs for converting your garage to LED will pay for themselves very quickly.
The ideal garage lighting is sketched out very simply: as soon as the garage door opens or a person enters the garage, the light should come on. It should be bright! And then the light should switch off again quickly. Automatically!
At the same time, the lighting must be rustic and must be able to cope with the ambient conditions of a garage!
Sounds complicated?
It's not complicated! We will explain to you which requirements the lighting in your garage has to meet and show you how you can implement this easily and cost-effectively.
Suitable products for your garage lighting
Art.-Nr.: 347120
sheathed cable NYM-J 3x1,5mm² grey 1m, by the meter
Art.-Nr.: 900567
The perfect all-round terminal for professional electrical use. The all-round terminal SD…
When mounting the sensor, ensure that the detection radius is as large as possible. It should trigger when someone enters the garage, but should also register if someone moves inside the closed garage.
The surface-mounted box is mounted at the suitable place with two screws + dowels.

The disturbing "wings" of the sensor can be removed with a side cutter (they are not needed and take up unnecessary space).

Carry out the wiring of the sensor Two holes in the ceiling (+screws+plugs) to attach the "clips" for the damp-proof luminaire When clipping in the lamp, make sure that it is not covered by the door.

Connect light and motion detector.



Before wiring on the power side, remove the fuse and secure it against being switched on again.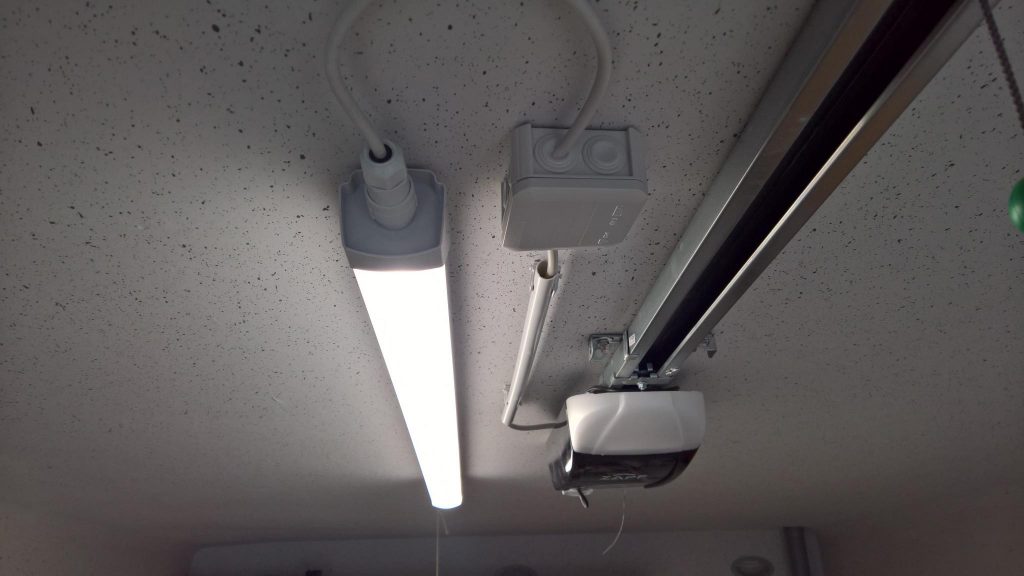 Sicherlich gibt es viele alternative Lösungen auf dem Markt. Oft haben sie aber den Nachteil, dass sie einen PIR/Passiv-Infrarotsensor verwenden, welcher nicht auf Wärmeveränderungen reagiert.
Das Licht schaltet sich erst ein, wenn das Auto bereits in der Garage ist. Im kritischen Moment der Einfahrt lässt es einen im Dunkeln stehen.
Die Installation ist nur durch fachkundige Personen (Elektroinstallateure, elektrotechnisch unterwiesene Personen etc.) vorzunehmen. Strom kann lebensgefährlich sein.
Outdoor garage lighting, parking lot lighting and backyard lighting is offered by many manufacturers. We will show you what requirements LED outdoor lighting for garage or backyard must meet.
Requirements for your outdoor garage lighting:
Suitable products for your outdoor garage lighting
Art.-Nr.: 30132920
LED spotlight and PIR motion detectorWith our "LED spotlight with motion detector EiKO-Ni…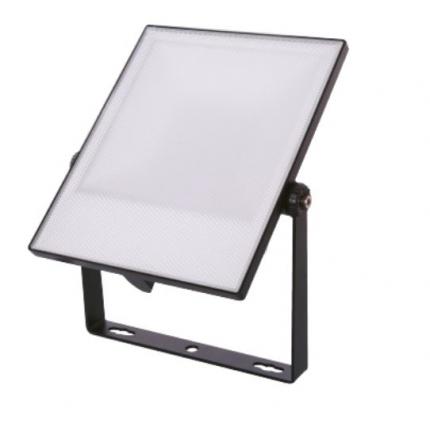 Art.-Nr.: EKFL100-5K-T3
100W LED spotlight with IP65 protectionThe LED spotlight "Floodlight" by EiKO has a nomin…
Art.-Nr.: 41751
PIR motion detector for DALI systemsThe passive infrared motion detector Swiss Garde 360…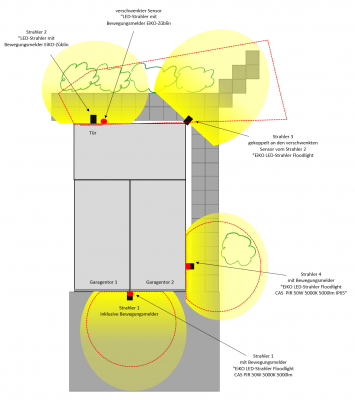 Entrance area / passage area (spotlight 1 and spotlight 4): should be as bright and non-dazzling as possible so that the entrance is accident-free.
Back door (spotlight 2): so that you are not standing in the dark as soon as you leave the bright garage.
Circumferential corridor and staircase area (spotlight 3): with corner mounting.
With our product range you can create the ideal outdoor lighting for your garage in a simple, efficient and inexpensive way.
If you have any questions about your new garage lighting or suitable alternatives, please feel free to contact us.
We have illuminated our garden with efficient LED lights.
Discover safe path lighting, high-quality exterior wall lighting and creative accent lighting.