UVC lamps
So-called disinfection lamps are used to kill microorganisms such as viruses, bacteria and fungi. No surface contact is necessary - unlike chemical cleaners, disinfection with UVC lamps is gentle on surfaces. However, UVC light is not harmless.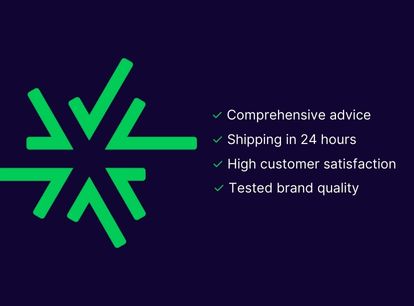 Comprehensive advice & support

over 10,000 articles in the shop
Shipping in 24 hours

thousands of satisfied customers

KATHRIN BRANDT
Employee Purchasing from Troisdorf
Great advice and friendly service. I was helped immediately and competently with any questions. Gladly again.

OMAR NASER
Office Manager from Frankfurt a.M.
Goods are well packaged and arrive safely, which is important to me. My mail was answered immediately.

RAINER SEIDEL
Master carpenter from Wiesbaden
Had to replace a lamp, but the same was no longer available. Great advice, found a suitable replacement and delivered it quickly.
Light expert info
UVC lamps - chemical-free hygiene
Disinfection with UVC lamps offers numerous advantages. The absence of chemical cleaning agents protects the environment and your surfaces. Physical cleaning takes place without leaving any residues and equipment is ready for use again immediately after treatment. In addition, UVC light acts within a few seconds, long exposure times are not necessary.
However, UVC lamps also carry a certain danger. UVC radiation is harmful to the skin and eyes, so such lamps should only be used professionally or with appropriately protected equipment. Learn more about disinfection with UVC light here.
UVC lamps - use in professional areas
UVC lamps are used in professional areas such as hospitals, laboratories or the food industry. There, the chemical-free type of disinfection ensures environmentally friendly cleaning of air and surfaces without the expense of human labor. The exclusion of humans is important here, as UV radiation poses a risk to the skin and eyes.
UVC lamps for household use
Due to the dangerous radiation, UVC light for rendering germs, viruses and bacteria harmless should be used with caution in private areas. Under no circumstances should the UVC light come into contact with skin or eyes. For private use, there are therefore numerous devices that work with UVC lamps, but whose radiation cannot penetrate to the outside:
Different types of UVC lamps
Depending on the application, you can choose between different types of UVC lamps. The two most common types are mercury vapor lamps and LED-based UVC lamps.
Mercury vapor lamps
Mercury vapor lamps are the traditional form of UVC lamps. They contain mercury vapor, which produces UVC light when excited. These lamps of various sizes and wattages are available and can be selected according to your needs.
LED-based UVC lamps
LED UVC lamps are the much newer and modern technology on the market. Powerful LEDs produce the desired UVC light. Advantages of LED UVC lamps include compact design, energy-efficient and long-lasting operation, and the absence of harmful substances such as mercury.
Buy UVC lamps
In our online store you can find UVC lamps of different technologies and types from well-known manufacturers such as OSRAM or PHILIPS. If you have any questions about the products, please contact the manufacturer directly due to the danger posed by UVC lamps.
Advantages with buying at WATT24:
High quality products: WATT24 offers only high-quality items from well-known manufacturers, so you can rely on the durability and reliability of the products.
Fast delivery: Your order will be processed immediately. Products that are in stock usually reach you within 24 hours.
Customer service and support: If you have any questions about the order process or our products, WATT24 customer service is always available via email, contact form, chat or phone.