LED-Spotlights
Whenever targeted lighting is needed, LED spotlights are used. In the private sector, in offices, in retail or in exhibitions, museums or trade fairs, LED spotlights are popular. Construction spotlights provide bright and flexible illumination of various areas and enable careful, risk-free work. When a lot of light is needed in outdoor areas, floodlights are popular. With different power classes, the powerful spotlights are used in all kinds of applications, such as facades, parking lots or parks.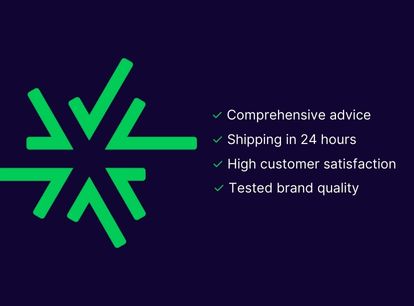 Comprehensive advice & support

over 10,000 articles in the shop
Shipping in 24 hours

thousands of satisfied customers

KATHRIN BRANDT
Employee Purchasing from Troisdorf
Great advice and friendly service. I was helped immediately and competently with any questions. Gladly again.

OMAR NASER
Office Manager from Frankfurt a.M.
Goods are well packaged and arrive safely, which is important to me. My mail was answered immediately.

RAINER SEIDEL
Master carpenter from Wiesbaden
Had to replace a lamp, but the same was no longer available. Great advice, found a suitable replacement and delivered it quickly.
Light expert info
Directed light with LED spotlights
Unlike incandescent lamps or luminaires, which emit their light spherically, LED spotlights have their light effect in a specific direction with a design-dependent opening angle. And it is precisely this effect that is desired, because it eliminates the need for reflector mirrors that direct the light in a specific direction.
LED spotlights of any type are thus suitable for bright and purposeful lighting. Objects and areas can be illuminated directly and efficiently. This creates attention, whether in the private, commercial or leisure/sports sector.
LED spotlights - different models
In a wide variety of applications, there is a need for targeted illumination, so there are different types of LED spotlights:
LED spotlights and ceiling spotlights: ceiling spotlights or LED track spotlights are popular in the private sector, offices or stores, museums/exhibitions and trade shows. They have enough power to illuminate an entire room as needed. In addition, the small spotlights are often rotatable and swiveling, so that their light can be directed specifically. This is a particularly useful feature for illuminating works of art, decorative highlights or merchandise.
Construction spotlights and work lights: Mobile work lights are ideal for supplementing general lighting or for use in the dark on construction sites, in workshops or around the house and garden. With construction spotlights, you always create light where you need it. Depending on the model and performance package, large project areas can be illuminated brightly and as needed, so that manual work can be carried out safely and perfect results can be achieved.
LED Floodlights: Floodlights are used in a wide variety of areas where a lot of light is needed. The floodlights are suitable for garden and yard lighting, parking lot lighting or for bright illumination of sports fields. Depending on the requirements, LED floodlights come in various, sometimes very high, power packages, so that light in accordance with regulations can be guaranteed even in areas of application that are not subject to standards.
LED hall floodlights: Hall floodlights or HighBays offer the perfect and robust choice for industrial lighting. High light output and enormous illuminance levels ensure optimal illumination of large halls.
Advantages of LED spotlights
LED spotlights bring numerous advantages that speak for their use in numerous application areas:
Electricity savings: in contrast to conventional halogen spotlights, LED spotlights require only a fraction of energy for the same light output. This means that LED spotlights can save up to 90% electricity, which is good for the wallet and the environment.
Low heat generation: While halogen spotlights produce enormous heat with their filament bulbs, LED spotlights and LED floodlights mainly convert electricity into light. The low heat generation brings enormous energy-saving potential and allows them to be used in much more compact designs.
Durability: LED spotlights score with a long service life and high switching stability. Low failure rates and low-maintenance operation make spotlights with LED technology an excellent choice for all applications.
Flexibility in terms of light color: LED brings an almost infinite choice in terms of color temperature and light color. From cool white to warm white to colored light, everything is possible. Many LED spots are dimmable in this regard, so you can flexibly adjust the color temperature depending on the mood and time of day.
Buy LED spotlights at WATT24
In our store you will find a huge selection of different spotlights, spotlights and floodlights for your purposes. The lights score with tested brand quality from renowned manufacturers. With a purchase in our store you benefit from numerous other advantages:
Delivery within 24 hours: We are fast! Stock goods are usually within 2 working days with you.
Quality products: WATT24 attaches great importance to the high quality of its products. You can rely on reliability and durability of LED spotlights.
Excellent service: Our lighting experts are always available by phone, e-mail or contact form to provide you with advice and comprehensive consultation.