Exterior lighting
Proper outdoor lighting is important in any application. Trip-free around the house, accident-free across the yard. In our store you will find outdoor lamps for every purpose: discreet, stylish decorative lights for your home and practical, efficient LED outdoor lighting for your business.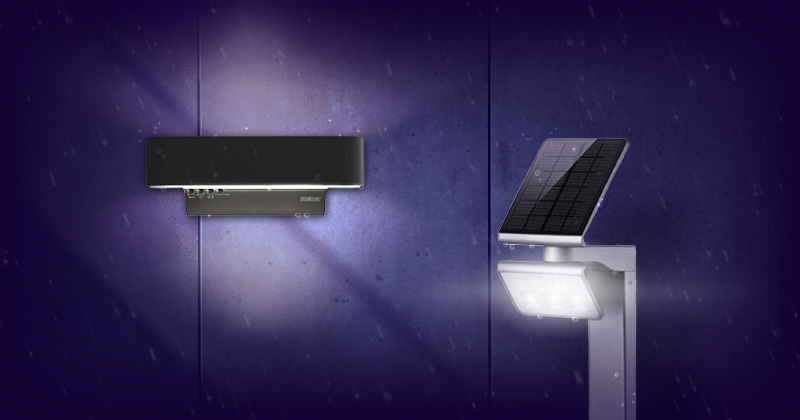 Comprehensive advice & support

over 10,000 articles in the shop
Shipping in 24 hours

thousands of satisfied customers

KATHRIN BRANDT
Employee Purchasing from Troisdorf
Great advice and friendly service. I was helped immediately and competently with any questions. Gladly again.

OMAR NASER
Office Manager from Frankfurt a.M.
Goods are well packaged and arrive safely, which is important to me. My mail was answered immediately.

RAINER SEIDEL
Master carpenter from Wiesbaden
Had to replace a lamp, but it was no longer available. Great advice, found a suitable replacement and delivered it quickly.
Outdoor luminaires for safety and orientation
Basically, decent and decorative outdoor lights are suitable for the home, which fit coherently into your design. When planning, you can divide your home outdoor areas into different areas:
Entrance area: inviting, bright and above all: safe! Make sure that your house entrance shines in the best light. This will help you avoid invisible tripping hazards and deter uninvited guests. Wall lights or spotlights are best suited for this purpose. Recessed luminaires are also suitable for bright and pleasant lighting. House number lights are particularly practical. They look chic, provide good illumination and, incidentally, show your visitors the way to the right house.
Driveways and paths: Different path lights are suitable for your driveway and paths around the house. Ground lights show the way stylishly but unobtrusively. Bollard lights now come in a wide variety of designs. You are sure to find variants that fit perfectly into your lighting concept. If you don't want to commit yourself or want to create "new" paths through your outdoor area for a garden party, ground spike lights are an excellent choice. Installation proves to be as easy as can be: the lights are simply inserted into the lawn or bed at the desired location.
Garden and yard: Garden lighting must be both functional and effective. Spotlights, which can be converted into a base luminaire with a suitable ground spike, offer perfect light bundled with maximum flexibility. Thus, selected areas are quickly illuminated or trees and bushes variially accentuated. In addition, they usually bring the necessary robustness and the appropriate IP protection class for use in adverse conditions.
You can set highlights simply with LED tape. In many cases, you can set the desired light colors and easily control them via app. However, it is important to make sure that your tape is suitable for outdoor use. Special elements on your property can be skillfully highlighted with suitable outdoor lighting. For example, an illuminated pond or a floodlit seating area is sure to attract attention.
Which kind of outdoor luminaires are available?
We offer outdoor luminaires for every purpose:
LED outdoor spotlights for bright but efficient illumination of parking spaces or yard
Outdoor wall lights for safe orientation around the house or commercial buildings
LED bollard luminaires as efficient path lighting
Ceiling luminaires for bright general lighting
House number luminaires for clearly visible entrance areas
The type of outdoor lighting which is suitable for your needs strongly depends on the purpose and location. Basically, discreet and decorative outdoor lighting is suitable for private homes while commerical areas require appropriate and sufficient bright illumination.
Outdoor lighting for your business
Around your facility you should install functional and sufficiently bright lighting. On the one hand, this will give you the visibility you deserve. On the other hand, you achieve increased safety of your employees and customers. Especially in your parking lot, this is important to reduce the risk of accidents due to darkness.
A great option for the facade of your commercial building is an outdoor wall luminaire with light emission at the top and bottom. Spotlights are perfect for your parking areas thanks to their bright light. Plinth luminaires also help you find your way around.
Practical outdoor luminaires with motion detector
Exterior lighting with motion detectors ensures comfort and safety. Automatic switching of your illumination avoids unnecessary search for the light switch, often to be found further away or inside, especially in large outdoor areas. In addition, automatic light switch has a deterrent effect on potential burglars. Outdoor lights with a camera offer even more control for this effect.
The right protection for your outdoor lighting
Outdoor lights are exposed to wind and weather. Hence, they need a special protection for a long life cycle. The degree of resistance to withstand water and dust influcences is defined by the IP protection rate. This rate indicates with a two-digit value the operational purposes for which outdoor luminaires are suitable. Special waterproof luminaires offer a particular high protection and impact strength.
Is it worth converting to LED outdoor lights?
LED outdoor lights are clearly worth it! They consume significantly less energy with a much higher longevity than conventional outdoor lighting. They have the advantage that frequent switching on and off by means of motion detectors does not affect their illuminant. In addition, they shine immediately with full brightness.
Tip: The most savings are offered by outdoor lights with solar. You don't even have to worry about suitable power connections. Combined with economical LED lamps, solar lights now also last all night.
In our assortment you will find a large selection of high-quality outdoor lights of various designs. Our top manufacturers Brumberg, Ledvance and Steinel offer outdoor lights for every purpose and taste. Our lighting experts will be happy to advise you!