Desk Lamps
For concentrated and efficient work, optimal office lighting is an important factor. With the right light, you can avoid headaches and annoying shadows or glare that tire your eyes. With the right desk lamp, you can easily create your favorite workplace.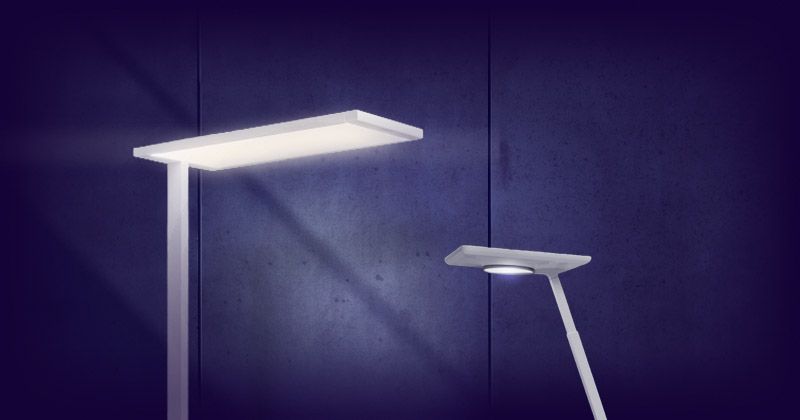 Comprehensive advice & support

over 10,000 articles in the shop
Shipping in 24 hours

thousands of satisfied customers

KATHRIN BRANDT
Employee Purchasing from Troisdorf
Great advice and friendly service. I was helped immediately and competently with any questions. Gladly again.

OMAR NASER
Office Manager from Frankfurt a.M.
Goods are well packaged and arrive safely, which is important to me. My mail was answered immediately.

RAINER SEIDEL
Master carpenter from Wiesbaden
Had to replace a lamp, but the same was no longer available. Great advice, found a suitable replacement and delivered it quickly.
Which functions are advantageous?
LED desk lamps come with countless features and different designs. Which model you choose is very subjective. Below, we will introduce you to some features of desk lamps that you can consider when making your choice.
flexible design: to ensure the ideal light incidence for you and your office environment, many lights are height adjustable. A flexible lamp arm or built-in joints allow you to adjust the light direction.
individually adjustable brightness: many lights are dimmable. Furthermore, some models offer a flexible adjustment of the light color. This allows you to adjust your workplace lighting to the time of day and to your own perception.
technical gimmicks: desk lamp does not have to be just a lamp! Many copies bring along additional, useful functions. For example, there are lamps where you can charge your smartphone or tablet via USB cable or an inductive charging surface.
Pedestal or table clamp: A tidy foot of the table lamp provides support and stability. However, if your desk does not provide enough space for a desk lamp, many manufacturers offer their models as an optional handy clamp lamp.
Advantages of direct and indirect light emission
The ideal office lighting is not exclusively on the desk. In order to avoid unpleasant shadows, a sufficiently bright basic lighting is necessary. This is provided by daylight in combination with ceiling lights. Innovative desk lamps can be a remedy for less optimal conditions, such as those often found in the home office.
The Bicult LED from TRILUX has a special feature on the luminaire head for this purpose. With its downward, direct light emission, it brings the best light to the workplace. In addition, the indirect, upward directed light emission creates a bright, standard-compliant general lighting.
If you have any questions about your ideal desk lamp from our range, our lighting experts will be happy to help.
The perfect illuminaton with your your new LED desk lamp
Healthy light is defined, among other things, by the intensity and color of light. Therefore, the illuminance of office workplaces is standardized. 500 LUX are recommended for desk work.
With regard to color temperature, natural conditions should be created. Daylight white around 4,000 Kelvin is best suited for healthy desk lighting.
Desk luminaires that offer Human Centric Lighting are particularly interesting and innovative. Here the natural course of daylight is imitated. This has a particularly positive effect on health, performance and motivation. Luminaires with HCL technology clearly put well-being in the foreground.