Construction lighting & work lamps
Natural light or general lighting is often not enough when craftsmen or do-it-yourselfers start a new project. Mobile work lights offer the solution. With bright and energy-efficient light, they ensure perfect visibility for all work on construction sites, in workshops or in the home and garden. There are numerous different models that are perfectly tailored to your needs. Find out now what to look for when searching for your new workshop lamp and how to find your ideal light: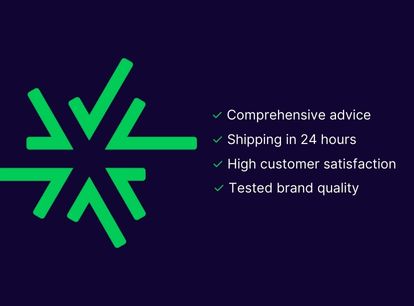 Comprehensive advice & support

over 10,000 articles in the shop
Shipping in 24 hours

thousands of satisfied customers

KATHRIN BRANDT
Employee Purchasing from Troisdorf
Great advice and friendly service. I was helped immediately and competently with any questions. Gladly again.

OMAR NASER
Office Manager from Frankfurt a.M.
Goods are well packaged and arrive safely, which is important to me. My mail was answered immediately.

RAINER SEIDEL
Master carpenter from Wiesbaden
Had to replace a lamp, but it was no longer available. Great advice, found a suitable replacement and delivered it quickly.
Mobile light for flexible working
In order to perform manual work safely and achieve perfect results, the use of mobile LED work lights is worthwhile. So-called hand lamps can be used very flexibly and provide bright, glare-free light for DIY enthusiasts and craftsmen.
There are a wide variety of lights and spotlights for your project. Find out now which model is best suited for your application:
Work lights - different models
Due to the wide variety of places where worklights are used, there is an almost endless selection of suitable models. All of them have practical functions that make them the optimal lighting solution for certain purposes.
We present here the advantages of the most common variants:
Construction spotlights
These sturdy spotlights for construction can be placed wherever bright, shadow-free light is needed and are ideal for evenly illuminating large areas. An adjustable parking bracket allows for flexible lighting. Alternatively, the offers the possibility to hang construction spotlights.
LED construction spotlights with tripod have the advantage that they can be easily brought to the required working height.
Tip: The Gladiator model from the quality manufacturer SONLUX can be interconnected thanks to an integrated socket. Other consumers can also be easily connected to the high-quality construction spotlight.
Inspection lights and rod lights
The narrow representatives of the work lights are ideal for work or inspections in poorly accessible corners. They are particularly practical when working on or under a car body. Many models score points with a choice of wide-area or point light emission. In addition, many rod or inspection lights have a magnetic base that leaves your hands free while you work.
Dome lights
Suspended work lights are the ideal choice on job sites where general lighting is not available. The mobile luminaires can be used suspended or standing on the ground and provide an even, glare-free 360° light output. The housing is particularly robust and impact-resistant, making dome lights the ideal, universal choice for all work areas.
Headlamps
Headlamps are particularly practical helpers for craftsmen who have to carry out assembly work in dark areas. Simply placed on your head, they brightly illuminate your field of vision and keep your hands free. The battery- or accumulator-operated ones score with different brightness levels. Flashing modes also ensure that you can move around safely in the dark.
Aspects you should consider when buying a construction spotlight
To find the perfect work light for your purposes, you need to consider some technical aspects and special features. If you compare the following criteria already during your search, you will surely find your ideal work light:
Mounting options
As many different models there are, as variable are the mounting options of work lights. Depending on the location and purpose, different types of mounting are suitable:
Construction spotlight with stand or tripod for large-area illumination
mobile hand lamps or rod lamps with a magnetic base to keep your hands free at all times when needed
Lamps and spotlights for hanging as a mobile substitute for bright general lighting
Lamps that are attached to the head by means of a headband and thus always brightly illuminate the field of vision
Rechargeable battery, battery or electricity
Before buying the new lamp, you should be clear about the power supply. In indoor areas or workshops, work lights with a power cable are usually completely sufficient. You can use an extension cord to ensure a reliable power supply if the power outlet is too far away. Construction spotlights that can be networked with each other by means of cables provide particularly bright illumination of larger work areas. If your work areas are outdoors or indoors without electricity, you should choose battery-operated construction lamps. They provide bright, flexible light in all places where power supply is difficult. Battery-powered construction lights can be easily recharged using the integrated or included power supply. Many battery-powered floodlights offer the option of changing the battery. This means that you are not dependent on the charge status of your lights when carrying out your work.
Tip: Work lights that allow you to switch between cable and battery operation offer a particularly high degree of flexibility.
Illuminant
As with all light sources, it is also worthwhile to use high-quality and efficient LED technology for work lights. LED not only scores with highest efficiency due to power savings and long service life. LEDs also provide the best light with little heat generation. They are therefore ideal for use in luminaires with a slim design and offer additional safety in terms of overheating. Energy-saving lamps are also well suited, as workshop luminaires, due to their good light output. However, energy-saving tubes need some time to reach maximum brightness.

Brightness
The brightness, or light output, of work lights is described in lumens (lm). The value indicates how brightly a light source shines. Bright light is indispensable for proper and safe work. Therefore, you should make sure that your new workshop lamp emits enough light according to your tasks.
Color rendering
The color rendering index of a light source is given in CRI and indicates how true-to-life colors and structures are reproduced. Pay particular attention to a very high CRI (<85) for fine assembly or painting work.
Color temperature
The color temperature or light color indicates how warm white or cool white your light source is.
For construction spotlights and work lamps, you should choose a value as close to daylight as possible. A value of at least 5,000 Kelvin is quite close to natural sunlight and thus provides concentration-enhancing, daylight-bright light.
Resistance
The housing of all work lamps must of course be impact-resistant, dustproof and waterproof. This is the only way to guarantee long-lasting, safe and flawless operation of workshop lights. A good guide is the impact resistance, given in IK. The IP protection class provides information about water and dust resistance. Both values should be as high as possible so that you can enjoy your work lamps for a long time.
Material and housing
The procurement material of construction spotlights also says a lot about quality and practicality. A good work lamp is made of good materials and is easy to transport and handle with a low weight. Non-slip rubber feet ensure a stable stand of construction spotlights. Rubberized carrying handles prevent slipping during transport and handling. This is a decisive advantage, especially for hand lamps and inspection lamps.
Buy construction lights at watt24
In our online store you will find a wide selection of mobile, powerful work lights, perfectly tailored to your use. You have the choice between different models - with battery or for mains operation. We only offer construction lamps from renowned manufacturers such as SONLUX at a low price.
If you have any questions about our products and their functions, please contact our lighting experts.