T8 fluorescent lamp
T8 tubes, also known as TL-D tubes, are lamps with a G13 base. The diameter of the tubes is 26 mm. T8 fluorescent tubes are available in different lengths. The length of the tube and the wattage depend on each other.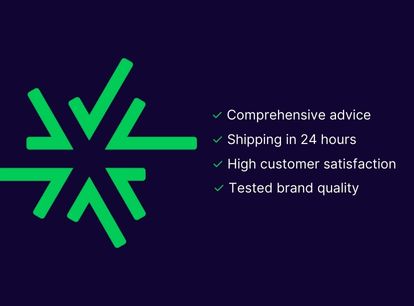 Comprehensive advice & support

over 10,000 articles in the shop
Shipping in 24 hours

thousands of satisfied customers

KATHRIN BRANDT
Employee Purchasing from Troisdorf
Great advice and friendly service. I was helped immediately and competently with any questions. Gladly again.

OMAR NASER
Office Manager from Frankfurt a.M.
Goods are well packaged and arrive safely, which is important to me. My mail was answered immediately.

RAINER SEIDEL
Master carpenter from Wiesbaden
Had to replace a lamp, but the same was no longer available. Great advice, found a suitable replacement and delivered it quickly.
Light expert info
T8 fluorescent tubes - General information
As with T5 fluorescent lamps, the designation "T8" of the fluorescent tube goes back to the English term "tube" for tube and the diameter of the tube in eighths of an inch (25.4mm = 8/8 inch). The G13 base of fluorescent tubes T8 format has two pins, which have a distance of 13 mm.
Fluorescent lamps owe their popularity to their low purchase and operating costs, as well as their long service life. The T8 fluorescent tube also scores with its temperature resistance. In the private sector, the T8 is often found in garages or basements, while in the commercial sector it is often used in offices or practices.
T8 fluorescent tubes - starters and ballasts
Basically, there are two ways in which T8 fluorescent tubes can be operated:
Electronic ballast
Conventional ballast
Note: If the lamp is operated with a conventional ballast, a starter is also required. The designations "EM", "AC" or "Mains" on the control gear reveal that it is a conventional one.
T8 tube - service life and efficiency
T8 lamps have an average life of 10,000 hours. If you assume an average lighting time of 60 hours per week, the tubes will last about 3 years (LED tubes score here with a 6-fold lifetime).
Moreover, the efficiency of fluorescent tubes suffers from the angle of radiation. While conventional tubes emit light at an angle of 360° (i.e. also under the ceiling or in the luminaire body where it is not needed), LED tubes only radiate downwards.
Buy fluorescent lamps in T8 format
Despite the 2023 fluorescent lamp ban that decides to phase out all non-sustainable light sources, you can still buy T8 tubes. Only the production of the lamps will be discontinued.
So it is important to stock up if you do not want to do without T8 tubes. Alternatively, it is already worthwhile to convert to LED tubes. These offer a direct 1:1 replacement for conventional fluorescent lamps, so the changeover is child's play. And even the somewhat higher purchase costs are amortised in no time thanks to economical operation and maximum efficiency.
T8 at a glance
Diameter: 25.4 mm
G13 base
Wattage and length are interdependent
1:1 LED replacement can be determined by wattage
Replacing T8 fluorescent tubes with LED tubes
Although fluorescent tubes already stand out for their high efficiency and long service life, those who are not afraid of higher purchase costs can consider upgrading to modern LED technology.
LED tubes score with flicker-free starts, excellent colour rendering and instant brightness. Moreover, LED tubes offer a direct 1:1 replacement for conventional fluorescent lamps, so the changeover is child's play. And even the somewhat higher purchase costs are amortised in no time thanks to economical operation and maximum efficiency.
The first thing to do is to find out whether the fluorescent tube is operated with a conventional or an electronic ballast. You can do this either by checking whether there is a starter in the luminaire. If there is, you need an LED tube for conventional or low-loss ballasts. If there is no starter in the luminaire, choose an LED tube for electronic ballasts. Alternatively, you can carry out the camera test: look through a digital camera to see whether the light flickers. If it does, it is a conventional tube, otherwise you can assume that an electronic ballast tube has been installed.
When choosing a new LED lamp, you need to consider the wattage. You can use this to quickly find the right alternative. In our practical Retrofit Product Table, you can find your perfect LED replacement lamp.
To the retrofit product finder

Caution: When replacing any lamp, always make sure that it is not live, as electricity is life-threatening!
Disposing of T8 fluorescent tubes
After the conversion, it is important to think about the proper disposal of the fluorescent lamps.
As the lamps contain toxic and environmentally harmful mercury, they should never be disposed of in household waste, so that no harmful degradation products enter the biological cycle when they are incinerated. Collection points or recycling centres accept your old lamps free of charge.
Find out more about the correct way to dispose of fluorescent lamps: