LED Tracklights
Tracklights and track systems have long since conquered the world of lighting in the private and business sectors. Originally intended more for use in museums, galleries or showrooms, the flexible spotlights are now becoming increasingly popular in living spaces as office or store lighting.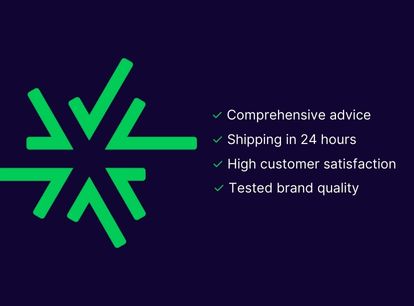 Comprehensive advice & support

over 10,000 articles in the shop
Shipping in 24 hours

thousands of satisfied customers

KATHRIN BRANDT
Employee Purchasing from Troisdorf
Great advice and friendly service. I was helped immediately and competently with any questions. Gladly again.

OMAR NASER
Office Manager from Frankfurt a.M.
Goods are well packaged and arrive safely, which is important to me. My mail was answered immediately.

RAINER SEIDEL
Master carpenter from Wiesbaden
Had to replace a lamp, but the same was no longer available. Great advice, found a suitable replacement and delivered it quickly.
Light expert info
Flexible lighting concepts with track spotlights
Tracklights form a stylish lighting solution for various applications where energy-efficient and, above all, flexible lighting systems are needed.
The LED spotlights create a pleasant atmosphere and at the same time make it possible to highlight specific areas of a room. This is a particularly helpful feature for stores and exhibitions - depending on requirements, track spotlights can be directed at objects and goods to bring them into focus.
They blend unobtrusively into any room concept, while high-quality materials such as aluminum or chrome and different paint finishes or coatings ensure a sophisticated look. While power track spotlights are ideal for highlighting special features, pendant luminaires for power tracks create an inviting and warm atmosphere in living rooms, foyers or waiting rooms. Discover your ideal track lighting solution now.
Tip: Use track spotlights to direct your customers' attention to the highlights of your display and demonstrably boost your sales.
Tracklights - advantages at a glance
Thanks to a multitude of advantages, the use of high-quality power track spotlights is worthwhile in many areas:
Flexibility: the spotlights can be flexibly directed at highlights or specific products at any time to set them in scene.
General lighting: track spotlights provide a pleasant lighting atmosphere that can be changed at any time. In addition, luminaires can be integrated or removed as required, so that all options are also open in terms of light intensity.
High-quality LED technology: LED tracklights score with a long service life, high efficiency and excellent photometric values. Dimmable track lights are also variable in light intensity.
Tip: Many of our track lights are suitable as direct 1:1 replacements for HID lamps.
High CRI: Our tracklights score with a high color rendering index, so that products or works of art can be optimally illuminated. - Compact design: LED spotlights require little space. Therefore, more modern and inconspicuous design concepts are possible than with conventional light sources.
Harmless to artwork: LED light does not produce harmful UV light, so there is no risk of paintings yellowing or fading.
Learn more about illuminating exhibitions or galleries with LED track lights here:
Buy Tracklights at WATT24
In our store you will find a large selection of high-quality tracklights from renowned manufacturers such as LEDVANCE, BRUMBERG or our popular own brand WELOOM.
In addition, you will benefit from numerous other advantages with an order in our online store:
Fast delivery: goods in stock are usually with you within 24 hours.
Tested brand quality: we only sell and ship products that we ourselves are convinced of.
Extensive selection: WATT24 offers a diverse selection of track spotlights in various designs, light colors and with different features, so you're sure to find the right lighting solution for your purposes
Expert advice: If you have questions about the products or how to choose the right lighting components, the WATT24 team is ready to help with expert advice