Compact fluorescent lamps
As the name suggests, this illuminant is a small fluorescent lamp. The tube in which the gas discharge takes place is shortened and its diameter is reduced. In addition, the tube is "folded" several times, so that the lamp can be accommodated very space-saving. Thus, the fluorescent lamp became suitable as an "energy-saving lamp" for living rooms.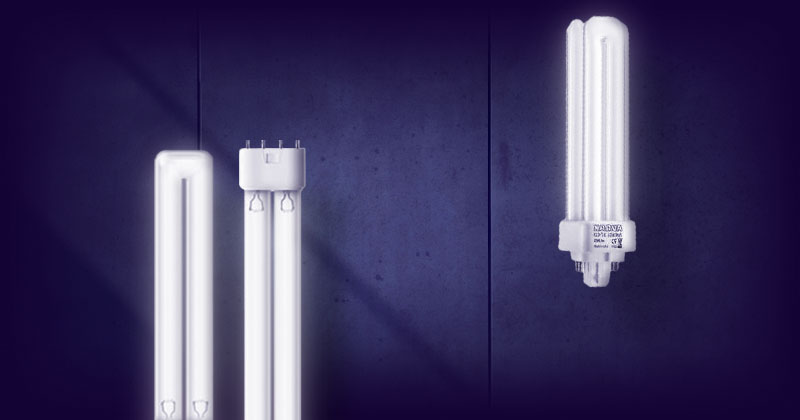 Comprehensive advice & support

over 10,000 articles in the shop
Shipping in 24 hours

thousands of satisfied customers

KATHRIN BRANDT
Employee Purchasing from Troisdorf
Great advice and friendly service. I was helped immediately and competently with any questions. Gladly again.

OMAR NASER
Office Manager from Frankfurt a.M.
Goods are well packaged and arrive safely, which is important to me. My mail was answered immediately.

RAINER SEIDEL
Master carpenter from Wiesbaden
Had to replace a lamp, but the same was no longer available. Great advice, found a suitable replacement and delivered it quickly.
Advantages of compact fluorescent lamps
In contrast to conventional light bulbs CFL score with
high energy efficiency
increased service life
large variety of colours
less heat generation
Light values of compact fluorescent lamps
The decisive factors in choosing the right light source are first of all the light color and luminous efficacy. In terms of light color, fluorescent lamps have a bad reputation, especially in private use. This is because they usually emit neutral white light. We often perceive this as cold. Warm white light sources are therefore more suitable for living rooms or bedrooms. For offices or areas where concentration is required, however, such daylight-like conditions are excellent.
In terms of luminous efficacy, compact fluorescent lamps outperform conventional incandescent lamps many times over: for the same luminous flux, they require significantly less energy.
With or without ballast?
Like all fluorescent lamps, the compact representative of these lamps must also be operated with a suitable ballast. In many compact fluorescent lamps, the necessary ballast is not integrated in the lamp. The advantage is that only the lamp needs to be replaced if the lamp is defective.
Fluorescent lamps without ballast usually have a plug-in base. If the ballast is integrated, compact fluorescent lamps often have a screw base and thus serve as a direct substitute for conventional Edison incandescent lamps.
How do I dispose of my used compact fluorescent lamps?
Fluorescent lamps of all kinds belong in the hazardous waste. The glass tube contains problematic substances such as mercury, which must not be disposed of in household waste. These substances are not only harmful to the environment but also to health.
If you have any questions about your compact fluorescent lamps or energy saving lamps, please contact us.