LED-Strips
The plastic strips with small LED diodes offer all kinds of possibilities for your lighting projects. A big advantage of the LED strips is their flexibility - they are extremely bendable and adapt easily to all conditions. In addition, you can freely determine the length of the strips by shortening and connecting them.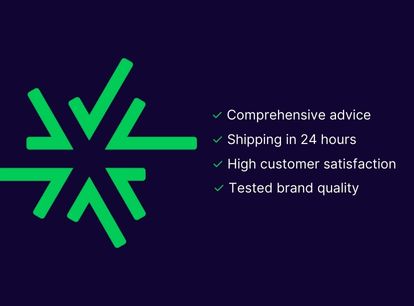 Comprehensive advice & support

over 10,000 articles in the shop
Shipping in 24 hours

thousands of satisfied customers

KATHRIN BRANDT
Employee Purchasing from Troisdorf
Great advice and friendly service. I was helped immediately and competently with any questions. Gladly again.

OMAR NASER
Office Manager from Frankfurt a.M.
Goods are well packaged and arrive safely, which is important to me. My mail was answered immediately.

RAINER SEIDEL
Master carpenter from Wiesbaden
Had to replace a lamp, but the same was no longer available. Great advice, found a suitable replacement and delivered it quickly.
Quality features of the flexible LED strips
To help you find your way through the jungle of modern LED stripes, we have defined a few quality features to help you find your way.
Which tape you choose in the end depends mainly on the type of the specific application. If you just want to provide some colorful variety around your mirror or picture frame, a simple tape without any special protection or additional features is surely enough.
The situation is different if your tape is to be used permanently as cove or even general lighting. Flexibility, easy control, longevity and a decent light intensity are only some of the factors to be mentioned here.
But regardless of the final application, there are features that should always influence your choice so that you are satisfied with your light strip solution at the end of the day.
Photometric values
In the product data sheet, you will find some values to which you can relate the quality of your LED tapes. Important cornerstones are the lifetime, efficiency, luminous intensity and color rendering.
The highest possible service life is not only promised by high-quality workmanship. Above all, it saves you the frequent and tiresome replacement of your LED tapes. A value of < 25.000h is acceptable.
In order not to save on the purchase costs, but to avoid sinking into electricity costs, you should pay attention to the highest possible efficiency. The value "lumen per watt" gives you information about this. With supposedly expensive LED strips, the purchase costs are amortized thanks to excellent energy efficiency and durable materials.
You can recognize the color rendering by the CRI or Ra value. It indicates how lifelike light sources reproduce the color of objects. A value of 80 or higher is considered to be sufficient natural color rendering.
Materials
The materials used also determine and influence the quality to a great extent.
The conductor path between the light-weight diodes is made of copper. This is where you can save money with cheap LED strips. The tracks are very thin and therefore extremely susceptible. In addition, the heat is not sufficiently dissipated if the thickness is insufficient, which also leads to premature failure of the LEDs.
Furthermore, high-quality coating material is to be paid attention to. Cheap LED strips are often provided with equally cheap coating. This can quickly become porous, exposing the installed electrical parts and making them very susceptible to damage. In addition, inferior coating material can smell very unpleasant.
Finally, with the mostly self-adhesive LED strips, the quality of the adhesive used must be taken into account. Nothing is more annoying than an LED tape, which does not stay in place and has to be fixed additionally at the end.
Additional components
With the help of the supplied accessories, additional conclusions can be drawn about the quality of the small light strips.
Starting with the smallest parts such as connecting clamps, which are used to easily connect and extend several tapes, up to smart control elements.
The presence, but also the quality and workmanship of these additional components allow you to draw meaningful conclusions about the level of your new LED tapes. With high-quality LED strips, all parts can be easily replaced thanks to reasonable accessories, which has a positive effect on the durability of the strips.
Quantity of LED chips per unit length
A very important and easy to determine feature is the number and density of LED chips on your LED strips. The rule is: the more the better. Many cheap tapes save on the number of small LEDs. This does not only lead to insufficient luminosity but also to unsightly light cones. Brightness and even light are only offered by LED strips, which do not save on it.
Therefore you should pay attention to the quality of the used LED chips. Inferior LEDs often fail prematurely. The tape must then usually be replaced completely.
The right accessories for your LED strips
You will find all kinds of accessories for your strips in our store. This opens up even more possibilities regarding the flexible fields of application.
Connectors - Meter by meter of light
With practical direct connectors you can easily connect LED tapes without tools to extend them.
Profiles
With profiles you not only ensure safe installation of your strips, but with their diffuser many profiles make your light something very special. The installation is very easy: the LED tape is simply stuck into the profile and then the cover is put back on. We offer the profiles for various applications in different shapes.
Drivers and Power Supplies
As for all LED applications, we also offer suitable power supplies and drivers for LED strips. These are needed to convert the low voltage energy of LEDs into direct current or direct voltage. You choose the right driver for your LED strips based on the power per meter.
Note: Watt per meter. You can connect several tapes to one driver at the same time.
LED strips for a wide variety of purposes
Thanks to their extraordinary adaptability and versatility, the strips are suitable for both decorative and functional lighting.
We have listed a few typical applications to give you an overview of the possibilities of your lighting projects with LED-Strip:
indirect lighting of furniture like bed, sofa or table
stylish backlighting of cupboards, TV or mirror cabinet
practical path lighting, especially on stair landings or in corridors
bright worktop lighting, for example in the kitchen
illuminated signs for the commercial sector
The right LED-Strips for outdoor use
If you want to spice up your outdoor areas with the practical strips, make sure they are protected against moisture or dust. The IP-rating tells you how suitable your lighting is for use in humid or dusty environments. You can find information about the IP protection under the product data.
Tip: If you are using LED strips in the kitchen or bathroom, you should also ensure a high IP protection because of the water vapour.
If you have any questions about your new LED strips, our lighting experts will be happy to help.
Brightly coloured or plain white?
In terms of light colour, LED strips are true all-rounders. Where at first there were only RGB tapes that mixed several colours from red, green and blue, a lot has now changed. And that was necessary, the disadvantage of RGB tapes is that they mix an unnatural, falsifying white. RGBW strips offer the solution, with an additional white diode it is no longer necessary to mix a white tone of three colours. However, this tape offers only one colour temperature, so you often have to decide before buying whether your lighting should be cold or warm white.
If you want to have flexibility regarding the colour temperature, your decision should be made for RGBWW or dual white light bands. With these you can choose freely between cold and warm white.
Installing LED strips correctly
Thanks to self-adhesive back, the installation of the light strips is very simple. Just peel off the adhesive film and the light strips can be stuck down immediately.
However, when attaching, make sure that the surfaces or walls are clean, dry and dust-free. For more information and helpful installation tips, please refer to the instructions for each of our LED tapes.
Rigid light strips
As an alternative to your flexible LED strips, you can also find rigid LED strips in our store. These are not glued, but fixed by means of clips. Thus, the strips are suitable for straight surfaces, which can not be glued due to the structure or sensitivity (for example, wood).
If you have any questions about the best choice for your application, feel free to contact us, we can certainly help you.