Moisture-proof luminaires
In humid or dusty environments, such as outdoor areas or factory halls, the lighting needs special protection to prevent damage to the electronics. Moisture-proof luminaires are ideal for use in adverse conditions thanks to their high IP protection.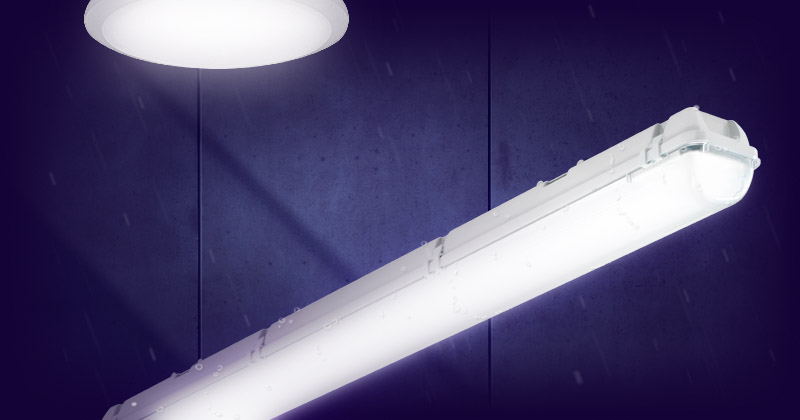 Comprehensive advice & support

over 10,000 articles in the shop
Shipping in 24 hours

thousands of satisfied customers

KATHRIN BRANDT
Employee Purchasing from Troisdorf
Great advice and friendly service. I was helped immediately and competently with any questions. Gladly again.

OMAR NASER
Office Manager from Frankfurt a.M.
Goods are well packaged and arrive safely, which is important to me. My mail was answered immediately.

RAINER SEIDEL
Master carpenter from Wiesbaden
Had to replace a lamp, but the same was no longer available. Great advice, found a suitable replacement and delivered it quickly.
Buying advice waterproof luminaires
Some luminaires require a certain robustness against external influences such as moisture or high dust levels. This applies primarily to those that are to be used in operational or outdoor areas.
Damp room luminaires are best suited for such use. With a high IP protection, they guarantee perfect functioning, even under adverse conditions.
robust lights
protected against dust and moisture
efficient LED technology
suitable lighting for every application
different versions
The choice of the right damp-proof luminaire depends primarily on the planned/desired area of application. In addition, legal requirements play a role, mostly in operational applications. Your individual ideas also influence the choice of the right luminaire.
But regardless of the area of application, the IP protection rating of damp-proof luminaires provides information about their suitability for use under adverse conditions.
The two-digit number tells you to what extent your lamp is resistant to water and/or dust.
Once you know what level of protection you need to use your luminaire, you need to determine the smartest solution for your application.
While in the industrial or business sector the focus is basically on functionality, efficiency and assembly, in the private sector optics also play a role. We have put together buying recommendations for you for the most diverse areas of application, including suitable alternatives and their advantages and disadvantages. So you can easily find the optimal luminaire that meets the legal and your individual requirements.
Discover the right waterproof luminaire for:
industrial, factory and warehouse buildings
multi-storey car parks
garage lighting and cellars
entrance areas, staircases and corridors, as well as sanitary facilities and changing rooms
Especially in industrial areas, lighting is exposed to high levels of dust or dirt. Accordingly, luminaires need to be able to withstand water.
Not only air humidity but also spray water for cleaning purposes play a role here.
In addition, there are a number of legal and individual requirements for your commercial lighting.
Often the illuminance, colour rendering index and glare are regulated by law. Furthermore, you certainly have your own ideas about the price level and installation of your moisture-proof luminaires.
high efficiency
simply mounted
optional single or feed-through wiring
5-year manufacturer's warranty
optionally available with integrated sensor
robust and impact resistant
high efficiency
available in different versions
optionally available with integrated sensor
The lighting in your car park should meet several requirements: it must be able to cope with the dust and dirt of cars entering and leaving the car park. But high humidity and splash water must not harm the lights either.
In addition, they should function as maintenance-free as possible to save effort and costs as far as possible.
On the other hand, the light in a parking garage should be bright enough to give a feeling of security.
Under no circumstances should the lights be allowed to dazzle, as this increases the risk of accidents many times over.
Continuous line lighting systems are ideal for car parks because their flat design means that they can be mounted under the ceiling to save space.
outstanding photometric and electrotechnical values

ball protection tested

can be combined with sensors or light management systems

"Made in Germany"

5-year manufacturer's warranty
The TRILUX twenty3 waterproof luminaire offers the excellent lighting solution for your car park as a low-cost alternative. You will find the entire series of the popular manufacturer in our shop.
glare-free, homogeneous light
high light efficiency
simple, tool-free installation
long service life
5-year manufacturer's warranty
In the private sector, too, robust moisture-proof luminaires are recommended in certain areas.
Premises such as garages or cellars are often exposed to an increased amount of dirt. In addition, increased humidity and constantly changing temperatures often cause the luminaires problems.
In order to guarantee flicker-free and fast light, it is worthwhile using modern LED technology.
This also has the advantage of high energy efficiency and a long service life.
robust against dust and moisture
impact resistant
high quality materials
optimum light distribution
You will find an inexpensive alternative in the LED waterproof luminaire from WELOOM. It is suitable for wall, ceiling and suspended mounting and thus offers an excellent solution for your garage, cellar or utility rooms.
wall mounting horizontal and vertical possible

anti-theft device sold separately

adjustable rated luminous flux (3800-5500 lm)

also suitable for covered outdoor areas (carports etc.)
Luminaires installed in entrance areas, stairwells or sanitary facilities and changing rooms need to have adequate IP protection. This guarantees perfect functioning despite unusual conditions (high humidity, changing temperatures...)
In addition, the luminaires have to fulfil a technical design aspect. Especially in entrance areas they give a first impression of your application area.
Therefore we recommend the use of modern and simple bulk heads.
The "SURFACE BULKHEAD" from LEDVANCE is a robust wall and ceiling lamp. Thanks to its modern but quiet design it fits perfectly into corridors, passages, underpasses, etc.
impact resistant (suitable for use in public areas)
optionally available with built-in sensor
through-wiring possible
upgradeable with clip-on cover rings in various designs
5-year manufacturer's warranty
The bulkheads of the WELOOM BASIC series offer a favourable alternative. With IP65 protection, they are ideal for installation in rooms where moisture occurs or in covered outdoor areas that are not exposed to general weathering.
wall and ceiling mounting
impact resistant (suitable for use in public areas)
warm white colour temperature for friendly light
Discover our EX-protected lights according to ATEX directive. They are suitable for use in hazardous areas. These include paint shops, carpentry shops or petrol stations.