Outdoor wall lights
Outdoor wall lights offer the ideal solution to illuminate all outdoor areas in a functional and stylish way. Whether you want to beautify your garden, patio, entryways, or are looking for light for the exterior walls of your application for safety reasons, outdoor wall sconces offer the ideal choice. Learn more about the different types, benefits and important factors when choosing your new outdoor wall sconces.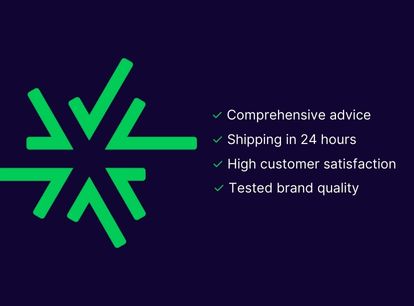 Comprehensive advice & support

over 10,000 articles in the shop
Shipping in 24 hours

thousands of satisfied customers

KATHRIN BRANDT
Employee Purchasing from Troisdorf
Great advice and friendly service. I was helped immediately and competently with any questions. Gladly again.

OMAR NASER
Office Manager from Frankfurt a.M.
Goods are well packaged and arrive safely, which is important to me. My mail was answered immediately.

RAINER SEIDEL
Master carpenter from Wiesbaden
Had to replace a lamp, but the same was no longer available. Great advice, found a suitable replacement and delivered it quickly.
Light expert info
Outdoor wall lights - The perfect lighting for the outdoor area
Outdoor wall luminaires are the perfect choice for illuminating outdoor areas around the house or business. Wall luminaires for outdoor use are real all-rounders.
At the house they stylishly ensure sufficiently illuminated paths and stairways, serve as accent lighting and are also often used for the basic lighting of balcony or terrace.
Professional applications generate attention with outdoor wall spotlights and at the same time increase safety around and the company building.
Tip: Outdoor wall luminaires with motion detectors and/or twilight sensors provide light exactly when it is needed. On the one hand, this reduces light pollution and also ensures considerable electricity savings.
Different types of outdoor wall lights
In our online store, you will find a variety of outdoor wall sconces to meet your individual needs:
Classic wall sconces: Timeless designs that match a variety of styles and create pleasant, diffused lighting.
Modern wall sconces: Innovative and stylish designs that will make your outdoor space eye-catching.
LED Outdoor Wall Lights: Energy-efficient options that provide bright and clear illumination while saving on electricity costs. Solar Powered Outdoor Wall Lights: Eco-friendly solutions that store solar energy during the day and automatically illuminate after dark.
Motion Sensor Wall Lights: Practical options that turn on when someone approaches for safety and convenience.
Important factors when choosing outdoor wall sconces
When choosing appropriate outdoor wall sconces, there are several factors to consider to ensure they meet your needs:
IP rating: outdoor wall sconces are often directly exposed to the elements. The IP rating numbers indicate the degree to which the sensitive electronics are resistant to moisture and foreign objects such as dust. The higher the number, the greater the protection.
Illuminance: when choosing outdoor lights, consider what type of lighting you want. Spotlights for the exterior wall provide bright general lighting, while discreet wall sconces are suitable for soft accent lighting.
Energy Efficiency: LED or solar-powered outdoor wall sconces make for an energy-efficient, eco-friendly and cost-effective option.
Design: Choose a design that fits both your personal style and the architecture of the building.
Outdoor wall light with motion sensor
Many outdoor lights have integrated sensor technology. Advantages of outdoor wall lights with motion sensors are electricity savings and environmental friendliness. Because the light only switches on when it is actually needed, you can save quite a bit of energy. In addition, the environment benefits from the fact that you are not artificially illuminating the night sky with continuous lighting. Light pollution has been shown to have dramatic effects on a wide variety of organisms and ecosystems.
Tip: Outdoor wall lights with solar are also becoming increasingly popular. Thanks to modern LED technology, solar lights often last the whole night and you do not need to lay electricity or cables.
Advantages of outdoor wall lights with LED
LED technology is gaining acceptance for all lighting solutions. No wonder, because LED lights bring numerous advantages over halogen lamps or energy-saving lamps:
Electricity savings of up to 90%
Long service life (60,000 h are no exception)
Switch-resistant and flicker-free
Environmentally friendly an recyclable
Mercury-free
Outdoor wall lights at WATT24
We offer a wide selection of high-quality outdoor wall lights of various brands and styles. Our range includes energy-efficient LED lights, modern designs and weather-resistant options. We place great emphasis on quality and only offer products from reputable manufacturers.
Explore our diverse selection of outdoor wall lights. Our knowledgeable team is available to help you choose the right lights for your outdoor space.
Illuminate your outdoor space with style and functionality - with outdoor wall lights from WATT24!