LED-Wall-mounted luminaires
LED wall lights serve numerous purposes. Therefore, they are suitable for any space. We'll explain which wall light you need for your interiors and what you need to consider when choosing and installing them.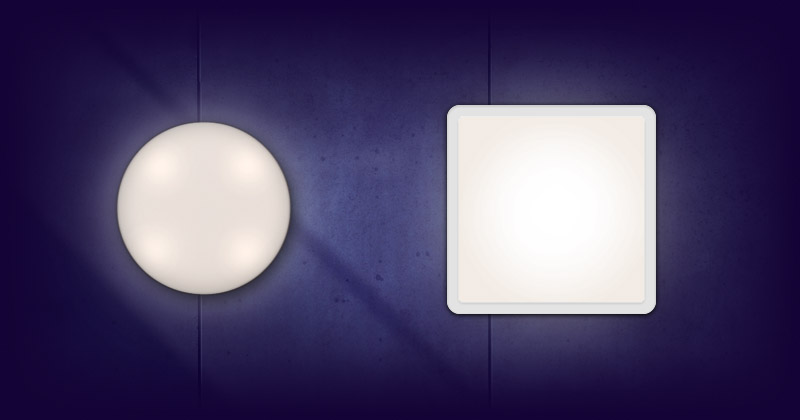 Comprehensive advice & support

over 10,000 articles in the shop
Shipping in 24 hours

thousands of satisfied customers

KATHRIN BRANDT
Employee Purchasing from Troisdorf
Great advice and friendly service. I was helped immediately and competently with any questions. Gladly again.

OMAR NASER
Office Manager from Frankfurt a.M.
Goods are well packaged and arrive safely, which is important to me. My mail was answered immediately.

RAINER SEIDEL
Master carpenter from Wiesbaden
Had to replace a lamp, but the same was no longer available. Great advice, found a suitable replacement and delivered it quickly.
The right wall-mounted luminaire for every room
Which luminaire you need for your walls depends largely on your ideas and the characteristics of your working and living areas.
For living spaces where pleasant light is preferred, wall luminaires that emit their light indirectly are the best choice. In this way, they act as a visual highlight and create a great atmosphere - also as a space-saving alternative to floor lamps. To create atmospheric light, wall luminaires with warm white bulbs fit the bill.
LED wall luminaires in hallways or stairwells provide smart and bright general lighting. Combined with motion detectors, this solution brings even more safety and energy efficiency. This is particularly practical and inexpensive for public buildings. At the same time, the mostly flat design looks modern and unobtrusive.
In offices or medical practices, LED wall luminaires are the optimal complement to ceiling luminaires. This is especially true in rooms where there is a lack of natural light through windows. In such applications, where performance is important, it is important to use daylight white light.
If you want to install wall lights in sanitary facilities, storage areas or basements, they must be resistant to moisture and dust. To what extent wall lights are suitable for your application, you can see from the IP protection class.
Application areas of LED wall lights at a glance:
Wall lights for living areas
Wall lights for public buildings
Wall luminaires for corridors and foyers
Wall lights for business premises
Wall lights for surgeries and waiting rooms
Wall luminaires for hotels
Wall luminaires for sanitary areas
Wall luminaires for storage and basement areas
Advantages of wall lights with LED technology
If you choose wall lighting with LED lamps, you will not only benefit from high energy efficiency. With LED technology, your lamps also have the longest service life. This has a positive impact on the environment.
In addition, the innovative light-emitting diodes now offer the most functions and features.
LED wall lights with extras
Cool features make wall lighting even more flexible and practical. Dimmable LED wall lights, for example, offer ambience and coziness on demand. If they are also color-adjustable, there are virtually no limits to your creativity when playing with lighting effects.
Wall lights with motion detectors are particularly practical. This often does not have to be installed separately. Many models are already available with an integrated sensor.
The trend is towards smart lighting control. Your wall lamps should be in no way inferior to this. Many models can be easily integrated into your existing system with suitable accessories. You can control them conveniently via smartphone and even simulate your presence by switching on the light every now and then.
If you have any questions about your LED wall lights, our lighting experts will be happy to help.
Installing wall lighting simply and safely
When installing all lighting, always call on the expertise of trained professionals. Especially when installing on walls, there is a risk of damaging existing wiring. Electricity is dangerous to life.
All of our lighting fixtures come with installation instructions that must be followed for safe and successful commissioning. If these instructions are lost, our lighting experts are always available to help and advise you.
In principle, wall luminaires should be mounted slightly above eye level. This way you achieve glare-free light emission without disturbing shadows.
In our store you will find LED wall lights for various purposes. Even models that are suitable for both wall and ceiling mounting. In addition, many of the wall lamps from our range offer the possibility of being installed outdoors. The IP rating indicates to what extent the lights are protected from dust and moisture.