LED surface-mounted luminaires
Ceiling luminaires provide the basic lighting in most applications. Only then do additional luminaires move into the premises. The choice of luminaires for your ceiling is almost limitless - and strongly dependent on the application.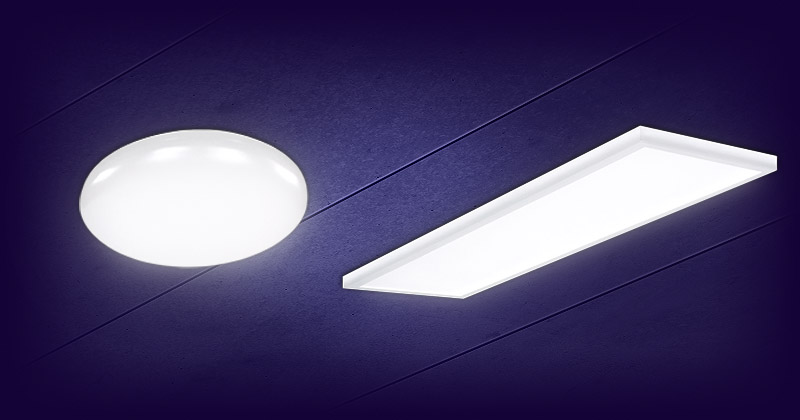 Comprehensive advice & support

over 10,000 articles in the shop
Shipping in 24 hours

thousands of satisfied customers

KATHRIN BRANDT
Employee Purchasing from Troisdorf
Great advice and friendly service. I was helped immediately and competently with any questions. Gladly again.

OMAR NASER
Office Manager from Frankfurt a.M.
Goods are well packaged and arrive safely, which is important to me. My mail was answered immediately.

RAINER SEIDEL
Master carpenter from Wiesbaden
Had to replace a lamp, but the same was no longer available. Great advice, found a suitable replacement and delivered it quickly.
Finding the right ceiling lighting
The decisive factor when choosing new ceiling lights is your area of application:
Residential areas, hotels and gastronomy: Here, mainly objects are used that fit stylishly into the overall architectural picture and radiate a homely atmosphere with warm white light color. Whether these are ceiling spotlights, (multi-flame) pendant luminaires or a track system depends on your taste.
In corridors, stairwells or sanitary areas, the lighting should be sufficiently bright. This way you avoid the risk of tripping and accidents. In addition, ceiling lights in sanitary areas and bathrooms should have a sufficient IP protection class, so that your ceiling lights last a long time despite moisture. Especially in these areas, the use of motion detectors makes sense. This saves energy and prevents the lights from being accidentally left on. This saves money and the environment.
Ceiling luminaires for offices and medical practices: In areas where concentrated work is required, sufficiently bright and glare-free basic lighting is essential. A neutral white color temperature is recommended. This is most similar to daylight and therefore has a positive influence on performance. The most popular ceiling luminaires in such applications are LED panels. They can be easily installed in grid ceilings or simply suspended. They emit excellent light.
Ceiling lighting for industry and workshops has to be one thing above all: practical and compliant with standards. Depending on the ceiling height, the luminaires must have a narrow beam distribution to ensure that enough light reaches the floor. In addition, ceiling luminaires often need to be robust, as they are exposed to dust and moisture.
LED continuous line luminaires and high bay luminaires are our top sellers in workshop and industrial lighting.
Advantages of LED surface-mounted luminaires
Ceiling lighting with LED bulbs has the advantage of maximum energy efficiency coupled with long service life. Operating hours of about 50,000 hours are standard for LED ceiling lights. This is easy on your wallet and the environment. In addition, you save the cost and effort associated with maintenance and replacement of your ceiling lights. This is especially advantageous in businesses where the ceiling lighting is mounted at great heights.
In addition, LED technology often comes with useful features, such as dimmable light sources that can be changed in light color.
Mounting of LED ceiling luminaires
Due to the wide variety of ceiling lights, the method of installation also varies enormously. Basically, always make sure that no electricity can flow before mounting any lighting.
Usually ceiling lights consist of two parts: the bracket, which is mounted on the ceiling and the lamp body, which is attached to this lower part. Our ceiling lights are always accompanied by installation instructions. Nevertheless, it is advisable to always have the assembly done by trained personnel.
Planning your ceiling lighting
Proper planning of basic lighting is important, especially in work areas where standards must be met for lighting:
How much light do I need in my application?
What protection do my lights need to have?
How much light needs to reach the bottom of my application? What color temperature should I choose?
What beam angle do my ceiling lights need?
Which products are best for my purposes?
What features should my luminaires have?
We will answer all these and other questions for you - in a free and non-binding light calculation.
In our online store you will find numerous ceiling lights for various applications. Our lighting experts will be happy to advise you on your order.