LED-Bollard lights
With modern bollard lights you can easily and efficiently complete your outdoor lighting. They provide the optimal illumination of your paths, stairs and access roads. But the slim luminaires are not only suitable for safe path lighting. Parking areas and garden areas can be illuminated just as effectively.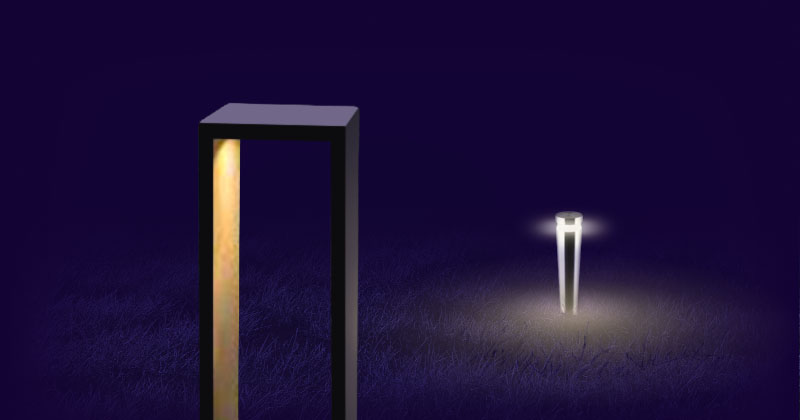 Comprehensive advice & support

over 10,000 articles in the shop
Shipping in 24 hours

thousands of satisfied customers

KATHRIN BRANDT
Employee Purchasing from Troisdorf
Great advice and friendly service. I was helped immediately and competently with any questions. Gladly again.

OMAR NASER
Office Manager from Frankfurt a.M.
Goods are well packaged and arrive safely, which is important to me. My mail was answered immediately.

RAINER SEIDEL
Master carpenter from Wiesbaden
Had to replace a lamp, but the same was no longer available. Great advice, found a suitable replacement and delivered it quickly.
Which bollard lights are the right ones?
Several factors play a role in the decision to buy. First of all, outdoor luminaires should always have the right IP protection class to withstand adverse conditions. The bollard lights in our store are all perfectly equipped to function perfectly and for a long time despite dust and moisture.
Furthermore the design of the path lights is crucial. Not only practical, but also decorative should the small floor lamps be. That is of course a matter of taste. Bollard lights made of stainless steel are particularly popular.
Whether you choose a model with directional or all-round light depends on preference and purpose. The latter are ideal if you want to illuminate large areas. With bollard lights with directional light source, only the area in front of the light is illuminated.
How are bollard lights installed correctly?
To achieve the ideal lighting result, you should first determine the optimal arrangement. The path lights should not be too far apart. This creates unsightly shadows and also offers the potential for stumbling and accidents in dark corners. The following applies: the higher the light source, i.e. the lamp head, the wider the light cone generated.
As soon as you have determined the correct formation of your base lights, the correct installation begins. First of all the underground is decisive. On floor slabs or concrete, the lights are usually screwed firmly. If you want to place your bollard lights in a bed or on the lawn, you should consider whether you install exposed aggregate concrete slabs or simply use ground spike lights. These offer the advantage that they can be repositioned at any time.
Advantages of LED bollard lights
As in most areas, it is also worthwhile to use LEDs for path lighting. You benefit from high efficiency and a long service life. On the one hand, this saves electricity costs, on the other hand, LED light sources do not have to be replaced often. Furthermore, economical LED technology in solar-powered lights guarantees that the energy charged during the day lasts all night.
Bollard lights with motion detector
Combined with sensor technology, such as a motion detector or twilight switch, you get the most out of your outdoor lighting - especially your path lighting. Ideally, it switches on when you or your visitors use driveways or garden paths. In addition, automatically switched lights deter uninvited guests. This ensures maximum safety.
Path lights with solar technology
Solar-powered bollard lamps bring even more efficiency - and protect the environment at the same time. They also save you from having to lay power cables in the garden. Combined with LED technology and sensor technology, the battery lasts all night.
If you have further questions on this topic, our lighting experts will be happy to help you.