Perfect Light for Car Workshops
Economical light thanks to LED technology
Individual adaptation through free lighting design
Dust-, water- and fire-protected luminaires
Smart control via radio switch or smartphone
To the light calculation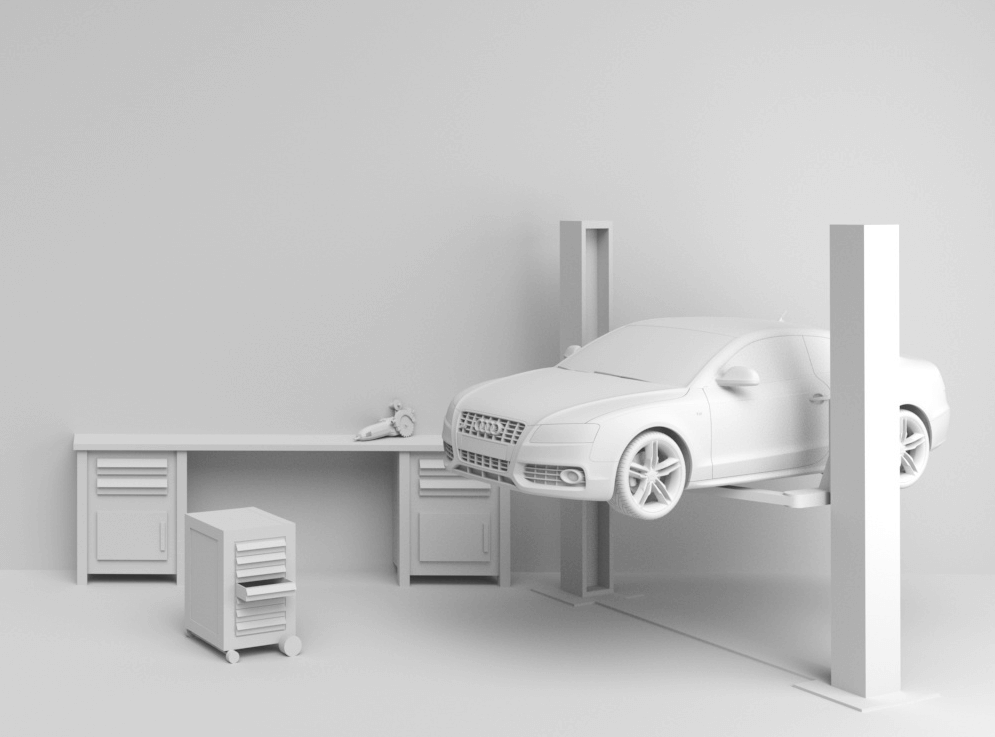 Efficient LED Lighting for Car Workshops and Test Centres
---
In a car workshop or car test centre, a wide variety of tasks are involved:
Work on lifting platforms, fine assembly work on engine blocks, rough repair work, tyre changes, tests Therefore, in a workshop you will usually find both lifting platforms and areas for larger work, as well as workbenches that allow for finer work. In addition, there are inside storage areas and also outside storage areas, some have their own painting cabins. All these areas have to be equipped with suitable lighting that meets the requirements of the respective needs.
These requirements can be differentiated between legal and individual requirements. The legal requirements describe what has to be observed or complied with in terms of lighting, for example in terms of any protection factors or minimum illuminance. The individual requirements, on the other hand, define personal demands, for example the integration of a lighting management system, the highest possible efficiency, as well as the ability to install the lighting quickly.
Perfect Products for your Car Workshop
---
We have selected products for you, which are ideally suited for the respective application areas in your car workshop. We give a four-year guarantee on all products. In addition, we provide tips for quick and easy installation on our YouTube channel.
Art.-Nr.: 10170846
47W surface mounted LED waterproof luminaire The surface-mounted LED waterproof lumi…
Art.-Nr.: 4058075001039
The IP65-protected OSRAM LEDVANCE LED highbay spotlight replaces highbay luminaires with…
Art.-Nr.: EKTPCS36W50K-120-5x1,5
Robust IP65 protected LED hf-sensor moisture-proof luminaire with a nominal power of 36W,…
Art.-Nr.: 30134315
Deep-radiating LED light band with 30,000 lm - Complete set, consisting of ready-to-…
Art.-Nr.: EKFL70-5K-T3
70W LED spotlight with IP65 protectionThe LED spotlight "Floodlight" by EiKO has a nomina…
Free offer
Light­innovator
Get the most out of your workplace - with the perfect lighting solution! We offer professional and non-binding lighting planning and consulting for almost every application. With the help of these, we not only make it clear how much light is needed in different places, but also which luminaires are suitable and the best place to install them. Naturally, we keep the legal requirements in mind and take your personal preferences regarding design and price level into account. Request your professional lighting calculation now and receive your perfect lighting design - within 24 hours.
Free and without obligation
Personalized Lighting suggestions
Optimize your workplace