Fluorescent tubes ban 2023 - all you need to know
The EU has defined a legal regulation that will result in the ban of T8 fluorescent tubes in 2023.
This seals the end of the fluorescent tube from 01 September 2023. What does the regulation mean in concrete terms?
What is allowed and what are the consequences of the regulation? Find out in this article.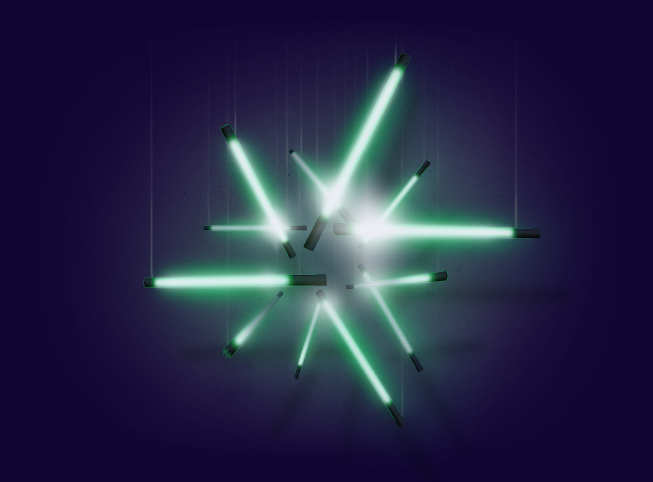 The end of the T8 fluorescent tube
Incandescent lamps were the beginning of the end of inefficient lighting. In favor of climate protection, a ban on the sale of a wide range of lighting products is gradually coming into effect. While the so-called "compact fluorescent tubes with integrated ballast" are already subject to a ban from September 2021, the T8 fluorescent tubes will also be affected a few years later. The reason for this ban lies in the European Union (EU).
By 2030, the EU and its member states want to significantly reduce greenhouse emissions and thus also primary energy consumption. Lighting was already expected to contribute a significant 41.9 terawatt hours (TWh) to the total energy savings of 260 TWh annually in 2016. In 2021, the EU increased its climate target to 65 percent.
Why is it being
banned?
The EU's 2019/2020 Ecodesign Regulation contains the legal basis for banning the fluorescent tube by 2023. This regulation is recorded under the name "Single Lighting Regulation (SLR)". Thus, a ban is prescribed for the fluorescent tube. This concerns fluorescent tubes of type T8 18,36, 58Watt (sizes 1500 mm, 1200 mm, 600 mm) and high voltage halogen lamps R7s > 2700lm, low voltage halogen lamps (G4, GY6.35, G9).
They are considered ineffective in the context of climate protection efforts. But don't worry: You can continue to use lights that you have already used. Likewise, you may continue to purchase commercially available fluorescent lamps (so-called stock items). This is therefore not a general sales ban.
What are the consequences?
Within the framework of the T8 fluorescent tube ban for 2023, both the planet and you as a private consumer will benefit. This is because the gradual bans on the various inefficient light sources will also lead to increased production of energy-efficient solutions. These can ultimately help to save energy costs in the home.
However, this changeover does not only have positive consequences. For example, anyone who uses luminaires in the home that use T8 fluorescent tubes or certain halogen lamps will eventually need new luminaires. Although fluorescent tubes may continue to be sold from stock, this stock is limited. So there is no longer any replenishment from the manufacturer. Accordingly, private consumers are left with only two possible ways out:
Replace old lamps with more modern, efficient ones
Stock up on the appropriate lamps The situation in industrial companies is also likely to worsen.
This is because around 40 percent of all companies currently still use T8 fluorescent lamps. Accordingly, these companies will also be affected when fluorescent lamps are banned. They will have to change over the equipment of the lamps in the business premises accordingly in good time.
Another point is the price increase when the time of the final ban 2023 has come: the short-term change of lighting, could cost you dearly. Manufacturers of forward-looking LEDs know that no other choice will be possible after September 2023. Accordingly, the prices for the LED lamps and the corresponding illuminants could rise in the short term, before the following demand will ultimately ensure falling prices again.

What serves as a replacement?
The focus for alternative light sources is currently on LEDs. This is because the LED offers decisive advantages compared to the T8 fluorescent tube.
Accordingly, it consumes very little energy compared to other light sources. For example, up to 80 percent of the energy previously consumed by incandescent lamps can be saved. The reason for this lies in the semiconductor of the light-emitting diode. This emits the light more clearly and brightly, but at the same time requires less energy. LEDs also do not contain any harmful chemicals (such as mercury in energy-saving lamps). This makes them much more environmentally friendly than other means.
The higher purchase costs of LED illuminants compared to conventional lamps may seem daunting at first. However, the combination of a significantly longer service life and improved efficiency means that LED lighting pays for itself after just a few years, depending on the application.
Last but not least, LEDs are available in different light intensities. This enables better adaptation to individual requirements - sensors allow these energy-saving light sources to be controlled. In this way, the light intensity in suitable lamps can be regulated according to your wishes. In addition, there are the different color temperatures. An LED in warm white, cold white or even in bright colors shine. This makes their use for several occasions conceivable.
Plan and prepare
early
As individual light sources are gradually banned, early planning is essential. It is worthwhile, both in terms of price and electricity costs, to switch to energy-efficient light sources at an early stage. Private consumers as well as businesses can avoid rising costs by preparing the switch in good time.
The general rule in both private and commercial sectors is that those who plan and implement the switch to more energy-efficient alternatives now will save more energy and therefore money in the long term.
What happens to the old fluorescent lamps?
The disposal of fluorescent tubes is a little more complicated than that of the good old incandescent bulb with tungsten filament. Fluorescent tubes and energy-saving lamps are considered hazardous waste due to their composition. As a result, it is forbidden to simply dispose of them in the household waste or the bottle bank. Instead, they can be handed in to the municipal waste disposal company. Retailers also accept used lamps for environmentally friendly disposal.
Buy suitable replacement at watt24
In our online store you can find retrofit and LED tubes to replace your fluorescent tubes. We offer only high quality products from renowned manufacturers at unbeatable prices.
If you have any questions or can't find what you are looking for, our lighting experts will be happy to help you.