Solar lights
As the name suggests, solar lamps make use of innovative solar technology. That is, they obtain their energy from sunlight. Thus, solar-powered light sources form probably the most efficient way of lighting. And these are not the only advantages of the practical sun worshippers.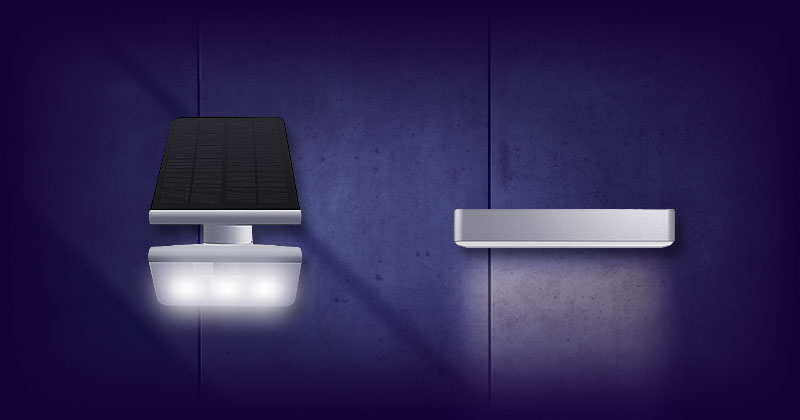 Comprehensive advice & support

over 10,000 articles in the shop
Shipping in 24 hours

thousands of satisfied customers

KATHRIN BRANDT
Employee Purchasing from Troisdorf
Great advice and friendly service. I was helped immediately and competently with any questions. Gladly again.

OMAR NASER
Office Manager from Frankfurt a.M.
Goods are well packaged and arrive safely, which is important to me. My mail was answered immediately.

RAINER SEIDEL
Master carpenter from Wiesbaden
Had to replace a lamp, but it was no longer available. Great advice, found a suitable replacement and delivered it quickly.
Solar-powered lights - advantages at a glance
Those who decide to feed their outdoor lighting with the energy of sunlight benefit from numerous advantages.
maximum efficiency

: solar lights make use of sustainable photovoltaic technology. Simply put, this means that they draw their required electrical energy from solar power. So you save a lot on energy costs and do something good for the environment at the same time.
wireless installation: since your solar lights don't require electricity, you'll eliminate the need for annoying tangled wires in your outdoor areas. You'll also be spared the hassle of laying weatherproof cables in your garden and yard. In addition, you can easily and flexibly set up or change your solar lights at any time.
various luminaires

: almost every light model is now available with a solar module. Starting with safety-creating path lighting to practical outdoor lighting to decorative accent lighting.
Applications of solar lighting
Photovoltaics have become widespread. Thus, the market offers countless outdoor lights that use the energy of the sun.
Solar lights for driveways and paths: With solar-powered bollard lights or recessed ground spotlights, you can easily create safety, orientation and tasteful illumination for all paths around your business, yard and house. No need to lay power cables.
Wall luminaires with solar: here also, a great advantage can be that you don't have to wire anything. With no power supply available, you're saving yourself the hassle of drilling or unsightly cables on your house walls.
Garden lights: There are countless solar lights for the garden. Every summer you can give free rein to your creativity and put your garden in a whole new light. Nothing stands in the way of the next garden party with solar lights. Simply and flexibly placed, they provide atmospheric light and show your guests the right way.
Solar-powered accent lighting: Solar spotlights with a ground spike, which draw sunlight, beautifully illuminate your planting throughout the night. And you can reposition them flexibly at any time. Use lanterns to conjure up effective light accents in your trees and shrubs. LED tapes or fairy lights for your Christmas lighting are also available with practical solar cells.
Why you should build on LED solar lights
LED in combination with solar technology not only brings maximum efficiency and durability. The decisive advantage of this combination is the energy-saving mode of operation of LEDs. Thus, the sun-charged batteries of your lights last the whole night.
In addition, LEDs offer the greatest flexibility in terms of the desired light color. Neutral white light for driveways and parking areas, warm white accent lighting or eye-catching, colorfully illuminated advertisements.
Solar lamps with motion sensors
When paired with sensor technology, your outdoor lighting saves even more electricity. Plus, the solar-charged energy in the batteries lasts longer. So you can use your solar lights even on days when the sun has not shone all day.
The combination with twilight switches is also practical. Your lighting switches on automatically at dusk and only goes off again as soon as daylight breaks - or the batteries of your solar lights are empty.
Solar lights in winter
In order for your lights to charge optimally, the sun should be visible. But even the simple brightness of the day is enough to feed your solar lamps with energy. In this case, however, you have to reckon with losses.
So it is worthwhile to provide additional light, especially in winter. Especially when it comes to areas where security lighting is needed.
The right protection for your solar lighting
As with all outdoor lights, solar lights should also have a sufficiently high IP protection. This means that moisture and dust cannot harm the lights. In covered outdoor areas, a protection of IP44 is often sufficient. If your lights are completely outdoors, a higher IP protection is advantageous. With IP68 protection, your lights are equipped for maximum weather conditions and are even suitable for installation at and in the garden pond.
In our online store you will find many models with different designs and functions.
If you have any questions about solar lights or related topics, feel free to contact our lighting experts.
Our favorite: Steinel XSolar
The XSolar series from top manufacturer Steinel offers top quality at a fair price. The range covers everything you need for your sun-controlled lighting around the house and yard: from the practical house number light to various outdoor wall lights to the security-creating base light.
Contact our lighting experts