In-Ground Spotlights
Modern LED recessed floor lights not only look beautiful! They additionally fulfill a safety-specific benefit. Paths, driveways or parking areas are stylishly and practically illuminated. This shows the right way and reduces the risk of accidents.
In this regard, floor spotlights are of great use in both private and commercial areas.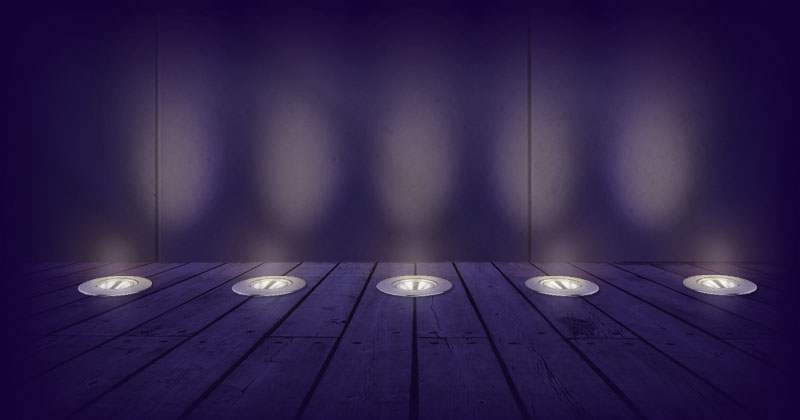 Comprehensive advice & support

over 10,000 articles in the shop
Shipping in 24 hours

thousands of satisfied customers

KATHRIN BRANDT
Employee Purchasing from Troisdorf
Great advice and friendly service. I was helped immediately and competently with any questions. Gladly again.

OMAR NASER
Office Manager from Frankfurt a.M.
Goods are well packaged and arrive safely, which is important to me. My mail was answered immediately.

RAINER SEIDEL
Master carpenter from Wiesbaden
Had to replace a lamp, but the same was no longer available. Great advice, found a suitable replacement and delivered it quickly.
LED in-ground spotlights in the professional sector
It is important to thoroughly illuminate all access routes and parking areas of your company premises. Especially in the dark season, your employees often come and go in the dark. Ensure safety with well-designed lighting. Spotlights embedded in the floor are ideal for this purpose. They produce orientation-creating light and look visually high-quality at the same time - a bit like the runway of an airport.
A big advantage is that the recessed luminaires do not get in the way. Thanks to the clever mounting method, it is no problem if they are "run over" by cars. For this, however, the ground spotlights must have a sufficiently high load limit. In addition, the building or surrounding vegetation can be beautifully illuminated from below with recessed ground spotlights. This provides visibility for your business and orientation for your customers.
Recessed floor spotlights for private areas
Your home can also be visually and safely enhanced with recessed floor luminaires. They create orientation-creating light in your driveway and on all paths around the house and garden. By directing the light upwards, you also create fantastic lighting accents. Recessed floor spotlights combine practicality, design and safety, making them a must-have for outdoor lighting.
This is what you have to pay attention to with your recessed floor luminaires outside
As with all outdoor lighting, a sufficiently high IP rating and the correct protection class are very important for your recessed floor spotlights. This way, your lights are optimally protected from wind and weather. This is because luminaires anchored in the ground in particular have to contend with heavy rain and, in some cases, flooding. The cabling must also be designed for outdoor areas.
Furthermore, it is worthwhile to rely on modern LED technology. Light-emitting diodes are very efficient, long-lasting and score points with low-maintenance operation. Especially in the case of floor lamps with permanently installed light sources, this saves you frequent and costly replacement of the lighting. In addition, LED illuminants offer a huge selection in terms of light color - from cozy warm white to daylight-like cool white.
When mounting your spotlights in the ground in driveways or parking areas, they should be passable. While recessed floor lights on paths around the house must withstand a maximum of a bicycle rolling over, recessed lights mounted on the roadway should easily withstand the load of a car or even truck.
In our online store you will find high-quality stainless steel recessed spotlights from the quality manufacturer Brumberg.
If you have any questions about your ideal recessed floor lights, feel free to contact our lighting experts.