LED lamps
The times of the good old incandescent lamp, halogen lamp or energy-saving lamp are long gone - LED lamps have conquered the world of light sources. And that really makes sense, with LEDs you achieve maximum savings with maximum variability. The bad reputation of light emitting diodes is long gone, they now function technically flawlessly and offer every possibility in terms of the desired light color - from cool white to neutral white to warm white.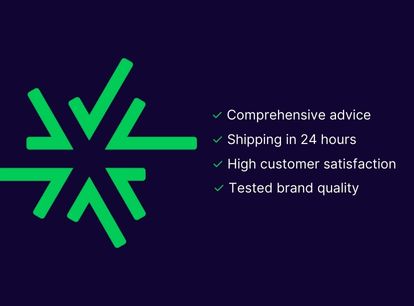 Comprehensive advice & support

over 10,000 articles in the shop
Shipping in 24 hours

thousands of satisfied customers

KATHRIN BRANDT
Employee Purchasing from Troisdorf
Great advice and friendly service. I was helped immediately and competently with any questions. Gladly again.

OMAR NASER
Office Manager from Frankfurt a.M.
Goods are well packaged and arrive safely, which is important to me. My mail was answered immediately.

RAINER SEIDEL
Master carpenter from Wiesbaden
Had to replace a lamp, but it was no longer available. Great advice, found a suitable replacement and delivered it quickly.
LED lamps - the future of lighting
For a long time, light-emitting diodes suffered from prejudice. They are expensive with cold, unnatural light and do not offer dimmability. In the meantime, however, LED lamps are much more advanced and offer only advantages over conventional bulbs and lamps.
Low power consumption with excellent performance is just one argument to rely on the modern diodes. In addition, LEDs are extremely durable. So you don't have to worry about maintenance or replacement of your lights for years.
The flexible and compact design also enables lighting concepts that were previously unthinkable. Flat LED panels as ceiling luminaires or LED strips for numerous applications are conquering the world of light. In addition, LEDs are suitable for use in hazardous areas - they hardly generate any heat.
Find out everything you need to know about the benefits of LED lamps and converting to modern light.
Is it worth converting to LED lamps?
The reluctance to switch to LED technology is largely due to the higher initial costs. However, thanks to extraordinary energy efficiency and long service life, the investment quickly pays off. While conventional light bulbs have a luminous efficacy of about 10 lumens (lm) per watt, modern LED lamps generate a luminous flux of 60 to 170 lumens. However, switching to LED light sources is not only worthwhile in this respect.
Here you will find an overview of the advantages of LED lamps:
up to 90% power savings thanks to high luminous flux with low wattage
high luminous efficacy with excellent light quality
excellent color rendering / high color rendering index
sustainable thanks to long service life (high-quality LEDs last up to 100,000 hours)
low fire hazard due to minimal heat generation
environmentally friendly, as no toxic substances are used
no delay when switching on
flicker-free light without power loss
extraordinary bandwidth and flexibility
Is a changeover to LED illuminants costly?
We can answer this question with no as well. There is an adequate LED replacement for every type of light source, so you don't even have to replace the entire luminaire, but only the light source. So-called retrofit lamps offer a replacement for your old lamps. They are available in all conceivable designs with matching bases for most sockets. This saves you time, effort and, of course, money.
In our guide, you will learn what you need to pay attention to for a trouble-free replacement of your conventional light bulb with an LED bulb.
Dimmable LED lamps
If you want to dim your LED lighting, make sure that the lamp is marked as dimmable. Otherwise you risk a flickering or even a defect of your LED lamp. Information about the dimmability of our lamps can be found in the technical data. You should also pay attention to a suitable dimmer, unfortunately the interface between LED lamp and dimmer is not standardized. You can find out more about this in our guide "Dimming LEDs".
If you have any questions, please feel free to contact us, our lighting experts will be happy to help you. You can also find LED lamps in our store, which bring the simplest kind of dimmability. They are easy to dim via the light switch. So just screw them in and off you go.
Colorful variety with colored LEDs
LED illuminants offer the ideal choice if you want to add color to your lighting. Whether for private, decorative use or commercially, as illuminated advertising or path or emergency lighting. There are no limits to the light colors of LEDs.
Different color temperatures are suitable for different applications. Cool white or daylight white light provides the necessary brightness for areas where concentration and attention are required. It is very similar to daylight and thus promotes health and concentration. Warm white lighting with around 3,000 Kelvin and less creates coziness. With colored light you create attention for eye-catching advertising or decorative purposes.
Disposing of LED lamps - what you need to consider
LED lamps consist of many small electronic parts. They are therefore classified as electronic waste and do not belong in household waste. You can dispose of them at appropriate collection points or at a recycling center. This has a positive effect on the environment, as some materials can be reused.
If you have any questions about buying your new LED lamps, WATT24 will be happy to help. In our store, you will find only high-quality lamps from our top manufacturers Philips, OSRAM, LEDVANCE, etc.
LED - from spotlights to floodlights
LEDs are available in all classic designs (bulb, globe, candle, reflector spot, T5/T8 tubes for fluorescent tubes). Thus, the use of LED, respectively the 1:1 exchange of standardized connections is possible without any problems. Thanks to the compact design and low heat generation, new applications are also possible in extremely small luminaires or in heat-prone areas. In our store you will find LED light sources for any application:
Ceiling lights, pendant lights and wall lights for general lighting
Outdoor lights of any kind
Floor and table lamps as a supplement to the basic lighting
EX and damp-proof luminaires
spotlights, spotlights
Luminaires for construction and extreme applications
and much more