High-quality workplace luminaires
In order to create optimal conditions at workplaces, optimal lighting is a central aspect. After all, light has a proven effect on well-being, health and performance. For this reason, workplace lighting for various activities is standardized by law.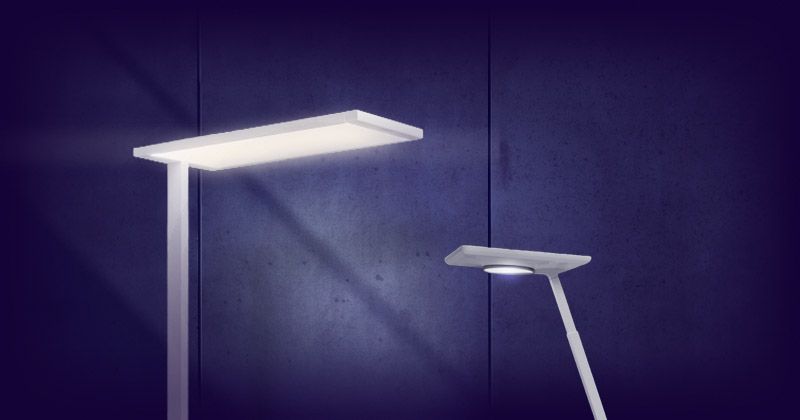 Comprehensive advice & support

over 10,000 articles in the shop
Shipping in 24 hours

thousands of satisfied customers

KATHRIN BRANDT
Employee Purchasing from Troisdorf
Great advice and friendly service. I was helped immediately and competently with any questions. Gladly again.

OMAR NASER
Office Manager from Frankfurt a.M.
Goods are well packaged and arrive safely, which is important to me. My mail was answered immediately.

RAINER SEIDEL
Master carpenter from Wiesbaden
Had to replace a lamp, but the same was no longer available. Great advice, found a suitable replacement and delivered it quickly.
What should the ideal workplace light bring with it?
To create optimal conditions at workplaces, perfect lighting is a central aspect. Because light has a proven effect on well-being, health and performance. Therefore, the workplace lighting of various activities is standardized by law.
Basically it depends on the type of activity when choosing the right light. A certain amount of flexibility allows you to adjust the lighting conditions and visual tasks that different activities entail. Thus, they meet the requirements of office workstations, assembly workstations and inspection workstations.
Why is the right lighting at the workplace so important?
The wrong lighting at the workplace has a negative effect on the health of employees from several points of view. Poor lighting causes eye problems, headaches and concentration problems. If glare or light shadows caused by poor lighting have to be avoided, this can also lead to poor posture. With a reasonable and tested LED workplace lighting on the other hand, you increase concentration, motivation and attention of your employees.
Furthermore, you prevent incorrect working methods and dangerous situations. This avoids many unnecessary accidents.
The best light at the workplace is achieved by a mix of workplace lighting, a good basic lighting and - of course - daylight.
Advantages of LED workstation lights at a glance
standard-compliant illumination of various workplaces
satisfied and efficient employees
efficient LED lighting with long service life
flexibility in terms of light output and light color
dimmable LED task lights meet personal preferences
Tip: In our store you can find task lights, desk lights and floor lamps specially designed for office workplaces.

What requirements and standards must workplace luminaires meet?
The most important aspect of standard-compliant workplace lighting is illuminance. This is measured in LUX. The recommendations regarding the ideal illuminance at the workplace depend strongly on the activity. Logically, much more light is needed for fine, complex work than for simple, rough tasks.
Depending on the nature of the workplace, work luminaires must have a sufficiently high degree of protection. This means that the electronics are not damaged in the sometimes dusty or humid environment in industry or workshops.
For many occupations, excellent color rendering is enormously important. This describes the quality of artificial light compared to natural light. You can recognize it by the CRI or Ra value, which should be at least 80.
Another value you should pay attention to in order to make your lighting as natural as possible is the color temperature. Neutral white or daylight white light sources create the best conditions here.

The ideal model of your work lamp also depends on the type of work and workplace. For many activities, such as assembly work, a flexible or an articulated arm on the lamp makes a lot of sense. So the light can be easily pulled to where it is needed.
For particularly fine work, there are so-called magnifying glass lights. As the name suggests, they are a combination of workplace light and tools.
Special system lights are designed according to the modular principle. This way you can create the perfect workstation light according to the workplace, employee preferences and lighting requirements.