Indoor Motion Detectors
In many cases it is worth considering the installation of motion detectors in indoor areas. Thanks to automatically regulated lighting, a lot of electricity can be saved. The risk of accidentally leaving the lights on is reduced. This has a positive effect on the environment and on your wallet. Because the life of your lights is also noticeably extended thanks to motion detectors.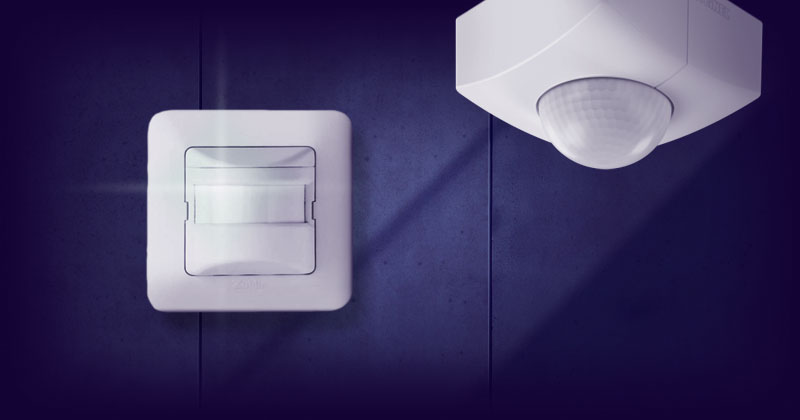 Comprehensive advice & support

over 10,000 articles in the shop
Shipping in 24 hours

thousands of satisfied customers

KATHRIN BRANDT
Employee Purchasing from Troisdorf
Great advice and friendly service. I was helped immediately and competently with any questions. Gladly again.

OMAR NASER
Office Manager from Frankfurt a.M.
Goods are well packaged and arrive safely, which is important to me. My mail was answered immediately.

RAINER SEIDEL
Master carpenter from Wiesbaden
Had to replace a lamp, but the same was no longer available. Great advice, found a suitable replacement and delivered it quickly.
What type of motion detector is best suited for my indoor areas?
The type of technology your indoor sensor uses depends heavily on the intended use and installation location.
While PIR sensors are more suitable for garages, staircases or corridors due to their rather large detection range, HF sensors react to even the slightest movement. Therefore, they are ideal for use in living rooms or offices. Even movements behind thin walls or doors are detected by HF sensors. This is extremely advantageous for angled rooms or sanitary areas.
Ultrasonic sensors are also suitable for indoor applications. The sound waves detect movements in the entire room, even over obstacles. Only the detection of movement behind doors or walls is not possible. Should you need help in selecting the ideal motion detector for your application, please contact our lighting experts.
The ideal installation
As the name suggests, flush-mounted motion detectors are anchored directly in the flush-mounted version. Often this is done directly during the construction of the house. The sensor is then supplied with power directly via a cable rather than by battery.
If you want to install a motion detector afterwards, the retrofitting is often complex and expensive. In such a case, so-called surface-mounted motion sensors are recommended. Many models are simply plugged into the socket. But also battery operated models are very popular.
Our lighting experts will be happy to help you choose the best variant for your purposes.
Motion vs. presence sensor
Both terms are familiar, but what is the difference?
Usually, presence sensors cover the "indoor motion detector" segment. They are much more accurate and sensitive than motion detectors, which often only register when a room is entered.
Presence sensors, on the other hand, leave the light on until a person leaves the room again. This is an enormous advantage especially in offices where no active work is performed.
Wall or ceiling light with motion detectors inside
A nice and simple solution for automated lighting is offered by wall or ceiling lights with a fixed motion detector. If you choose to use a separate sensor, please make sure that you use lamps that immediately emit full luminous flux and do not exceed the maximum allowed electrical power of the sensor.
Motion detector and Smart Home
Our home is becoming increasingly smart. This trend can also be seen in many motion detectors. For example, some sensors now alert you to activities in your home. In addition, settings can be made via apps that would otherwise be made directly on the device itself.