Casambi: Upgrade wireless Light Control
Casambi works with every luminaire
Lighting management systems offer convenience in lighting control coupled with high energy-saving potential.
However, it is often difficult and expensive to retrofit lighting management systems because DALI cables may need to be laid or new luminaires installed.
With the Casambi modules you can convert your lighting very simply, wirelessly. And the good thing is: it works with every luminaire!
✓ Uncomplicated retrofitting of lighting management system
✓ No new cabling necessary
✓ Easy control via App and Bluetooth
✓ Presence simulation via the gateway function
Discover the Diversity of Casambi
With Casambi you can easily control your lighting individually, wirelessly, on Bluetooth basis, conveniently via smartphone or tablet.
The compact modules are simply mounted in front of the light or behind the switch, so no extra cables need to be laid. Once installed, the small modules can be easily controlled via the free Casambi app for iOS and Android. This offers a variety of additional features. Your lights can now not only be dimmed or switched on and off, you can also combine up to three lights into a group, set lighting scenes, set a timer and much more.
You can read in our blog which functions the Casambi-App still offers. The control runs via Bluetooth LE (Low Energy).
If several Casambi modules are in use, a so-called "mesh network" is built up. This enables a higher range, as it is extended with each additional module. We have tested the range in practice and came up with two modules to a full 40 meters!
Take a look for yourself.
Casambi Products at a Glance
With the Casambi modules you can make almost any light dimmable and control it easily with a smartphone or tablet.
In this video we show you the most important functions of the app - have a look.
The Casambi App - In 5 steps to your own lighting control
Retrofitting lighting management systems is often complicated and costly. We show you today how to retrofit your lights smartly in only 5 steps. Very simple - with the Casambi App:
First wire your Casambi module to the lamp.
If you still need help in choosing the right module, just have a look at our configurator. Here you can easily see with a few clicks which module you need for your lighting.
Of course, you can also contact us via live chat, e-mail or phone, if you want to wire the LED lights, please note that there are two different ways to do this. How this works and what you have to pay attention to, we will show you here.
PHASE-SEGMENT DIMMABLE DRIVER:
Your driver is phase dimmable - in this case you need the Casambi TED module.
You can make phase dimmable luminaires with a mains plug CASAMBI-compatible with our practical radio dimmer socket. Simply insert the mains plug of the light into the socket and plug it into a power outlet.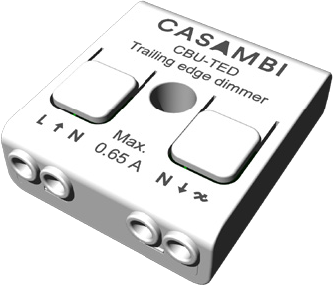 Art.-Nr.: CBU-TED
Lighting control for existing LED lighting With the IP20-protected CASAMBI CBU-TED p…
Your driver is DALI capable - you need the Casambi ASD module.
Art.-Nr.: CBU-ASD_DALI
Wireless control unit for DALI LED drivers With the innovative CBU-ASD DALI Bluetoot…
Phase section dimmable driver or non-dimmable driver
Unfortunately, your driver is not Casambi-compatible.
Of course we have a solution in this case: You can alternatively use our Casambi-compatible sockets. With the help of the WELOOM® wireless dimming socket you can easily integrate phase dimmable lights or consumers or luminaires into your Casambi lighting control system and use all the advantages of the Casambi app.
Light source that is dimmable via pulse width modulation:
For example LED tape, which is operated with constant voltage, is dimmable via pulse width modulation and can be operated with the CASAMBI PWM4. Via four channels, either four different tapes can be connected or coloured tapes can be controlled.
Art.-Nr.: CBU-PWM4
4-channel Bluetooth 4.0 PWM dimmerThe CBU-PWM4 is a Bluetooth 4.0 controllable CASAMBI fo…
2. Wire the Casambi Module
The following applies to the first two variants:
First connect phase and neutral conductor in the Casambi module; the protective earth conductor is not required.
CASAMBI ASD module:

Connect the +/- output of the ASD module to the DALI interface of the driver. As usual with DALI, the polarity is not to be observed. Now add L and N to the driver - switch on the light - DONE!
CASAMBI TED module:
Connect the N/≁ output to the driver - switch on the light - DONE!
You wire the PWM4 module behind the driver with the LED tape.
Look for the exact wiring instructions directly in our shop under the respective CASAMBI module. You'll find the different possibilities and correct diagrams for wiring there.
3. Open the free Casambi App
If you don't have it installed on your phone yet, you can find it here:
Go to "Lights nearby" and select the appropriate Casambi module. All available profiles will now be displayed; choose the one that suits you best.
Of course you can change the profile at any time. How this works is explained in a YouTube video.
Your lights now connect to your smartphone via Bluetooth, which consumes little energy and has a range of up to 20 metres, with two Casambi modules even up to 40 metres in the open air thanks to the mesh network. Of course we did not miss the opportunity to test the range, see for yourself!
5. Integrate luminaire into your network
You can assign the device to an already existing network or to a previously created network. To do this, click on the module icon and then go to the "Add to..." option.
Now select the network to which your luminaire should belong. Your lamp is now ready for smart control via the Casambi-App!
Functions of the Casambi-App compactly explained:
The Casambi-App offers a variety of useful features. For example, lights can be controlled individually or as groups, which makes handling much easier. If there are certain light colours and dimming levels that you particularly like, you can easily save them as a scene and call them up as often as you like at any time. By setting the timer function, this even happens automatically. The Casambi app offers another gimmick with the photo function. You simply upload a photo of your living room (or production hall, workshop, etc.) to the app and after a short and intuitive setup you can control your lights with a "click" and dim and adjust them with simple gestures.
With the practical "share function", roommates and guests have immediate access to your lighting without having to set up each room again (of course only if you want to).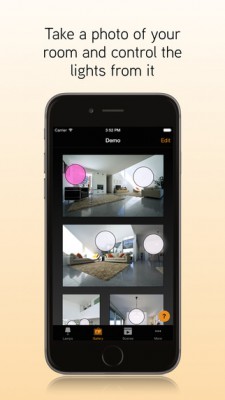 Discover more useful products in our watt24.com shop, which make the use of a Casambi light management system easier for you:
The WELOOM® wireless switch allows you to control CASAMBI luminaires from anywhere - it can also be operated completely current-free thanks to EnOcean technology and can be mounted anywhere. To the blog entry on the EnOcean wireless switch with CASAMBI.
We distribute a variety of products which are "Casambi-Ready", i.e. compatible with all Casambi products.
Here we have put together a selection of Casambi-Ready products for you.