TRILUX SIELLA
Recessed ceiling luminaires or panels are the standard for lighting offices or educational facilities. For several generations now, the Siella LED has established itself as a flexible entry-level solution. It is optionally available as a square recessed luminaire or as a rectangular surface-mounted luminaire. The latest version of the popular luminaire (G7) is offered for the first time with advanced backlit technology.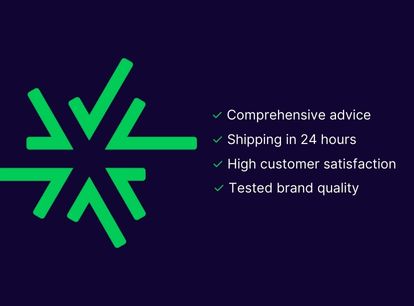 Comprehensive advice & support

over 10,000 articles in the shop
Shipping in 24 hours

thousands of satisfied customers

KATHRIN BRANDT
Employee Purchasing from Troisdorf
Great advice and friendly service. I was helped immediately and competently with any questions. Gladly again.

OMAR NASER
Office Manager from Frankfurt a.M.
Goods are well packaged and arrive safely, which is important to me. My mail was answered immediately.

RAINER SEIDEL
Master carpenter from Wiesbaden
Had to replace a lamp, but the same was no longer available. Great advice, found a suitable replacement and delivered it quickly.
Office lighting with the TRILUX Siella LED
LED panels are the standard for office lighting. This makes it all the more important to create solutions that prioritise flexibility, costs and above all health. This is where the TRILUX Siella LED comes into play. The recessed luminaire scores with low acquisition costs that are quickly amortised due to high electricity savings.
In addition, the popular panel offers a high degree of variability. The luminaires are available square, rectangular, as recessed and as surface-mounted luminaires. Moreover, thanks to the different optics, the Siella is used in different office environments. Computer workstations and other areas benefit from the uniform design language of the simple panels.
Advantages of the TRILUX Siella LED
The Siella LED scores with numerous advantages that make the modern and simple luminaire the optimal choice for office lighting:
Low operating costs: Affordable investment costs and high energy efficiency make the TRILUX Siella an economically attractive solution whose acquisition costs are quickly amortised.
Best light for office environments: A high level of glare control makes the TRILUX Siella LED the ideal and standard-compliant solution for VDU workstations (UGR19) and for all other areas (UGR22). Thanks to these different optics, the Siella LED provides optically uniform lighting for different office environments.
Excellent lighting quality: The Siella LED scores with outstanding photometric values and produces pleasant, homogeneous light without visible LED points.
Quick and easy installation: Thanks to external control gear, which can be installed separately from the luminaires via Plug & Play, the installation or replacement of Siella LED panels is quick and uncomplicated.
Buy TRILUX Siella at WATT24
In our online shop you will find a large selection of the popular panels including matching accessories. With a purchase at WATT24 you also benefit from numerous advantages:
High-quality products: When selecting our products, we rely on the quality of renowned manufacturers such as TRILUX. You can therefore rely on the durability and reliability of your Siella LED.
Large selection: We offer a wide range of TRILUX products, so you are guaranteed to find the right lighting solution for your office buildings. Tip: With our free light calculation, we support you with the ideal and standard-compliant illumination of your office spaces.
Fast shipping: WATT24 ensures fast and reliable shipping. Stock items are usually at your home or construction site within 24 hours.
Excellent service and best advice: If you have any questions or problems, our lighting experts will be happy to help you with expert advice. You can reach us by email, chat, phone or via our contact form.