Steinel XLED
With the XLED series, the brand manufacturer Steinel supplies high-quality spotlights for private and professional applications. The spotlights are equipped with motion detectors (and some cameras) and are suitable for wall or ceiling mounting. Don't miss a visit with your new Steinel XLED spotlights.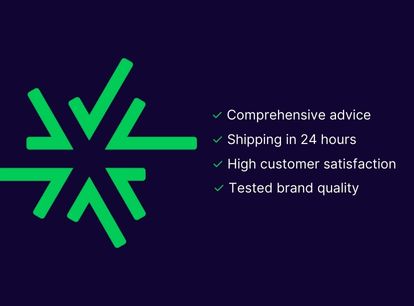 Art.-Nr.: 4007841012083
Illuminating compact model. Sensor LED floodlight XLED curved with 9 W, compact and discr…
Art.-Nr.: 4007841012052
Light meets elegance. Elegantly designed sensor LED floodlight XLED slim with 10,5 W, ide…
Art.-Nr.: 4007841012076
Illuminating compact model. Sensor LED floodlight XLED curved with 9 W, compact and discr…
Comprehensive advice & support

over 10,000 articles in the shop
Shipping in 24 hours

thousands of satisfied customers

KATHRIN BRANDT
Employee Purchasing from Troisdorf
Great advice and friendly service. I was helped immediately and competently with any questions. Gladly again.

OMAR NASER
Office Manager from Frankfurt a.M.
Goods are well packaged and arrive safely, which is important to me. My mail was answered immediately.

RAINER SEIDEL
Master carpenter from Wiesbaden
Had to replace a lamp, but the same was no longer available. Great advice, found a suitable replacement and delivered it quickly.
Light expert info
Steinel XLED - Your smart outdoor lighting
Whether in your home or for the illumination of your company building - with the spotlights XLED from Steinel you make the right choice. Thanks to high-quality sensors, you always have light exactly when you need it. This not only saves electricity, but is also particularly sustainable in terms of light pollution.
Hochwertige Sensorik kombiniert mit starkem Licht sorgen für größte Sicherheit für deine privaten oder gewerblichen Gebäude. Effiziente LED-Technik und automatisch gesteuerte Beleuchtung schaffen zudem höchste Effizienz und Energieersparnis. Dabei unterteilt sich die beliebte Serie in zwei Reihen, XLED Pro und XLED Home.
Steinel XLED Home
The outdoor lights of the Home series score with modern design language and strong light output. The XLED Home spotlights can be swiveled so that you can illuminate different areas around the house and yard in a targeted manner.
Steinel XLED Pro
Die Pro-Variante der XLED bietet Leuchtkraft im XL-Format – ideal für die Außenbeleuchtung großer gewerblicher Bauten. Die Wand- und Deckenstrahler Pro sorgen für höchste Sicherheit mit flutlichtartiger Ausleuchtung ausgewählter Bereiche.
Steinel XLED - Full control thanks to innovative app.
With the Steinel Connect app, you have full control over your outdoor spotlights and can even network your outdoor lights with sensor. All basic functions such as dimming, sensor run-on time, detection range or twilight threshold can be set and flexibly adjusted directly via the mobile app.
Steinel XLED Cam - the all-rounder
The Steinel XLED Cam is particularly innovative, combining the functions of an outdoor light, sensor system, surveillance camera and intercom. With the multifunctional outdoor light, you always have control over desired and also unwanted visitors.
Questions or suggestions?
Our lighting experts are available to help you with any concerns: