OSRAM DULUX D LED
DULUX D LEDs from OSRAM are an excellent 1:1 replacement for conventional compact fluorescent lamps with a 2-pin G24d base on one side. They are suitable for operation with conventional control gear or directly via AC wiring.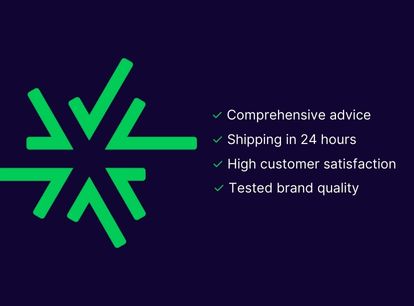 Comprehensive advice & support

over 10,000 articles in the shop
Shipping in 24 hours

thousands of satisfied customers

KATHRIN BRANDT
Employee Purchasing from Troisdorf
Great advice and friendly service. I was helped immediately and competently with any questions. Gladly again.

OMAR NASER
Office Manager from Frankfurt a.M.
Goods are well packaged and arrive safely, which is important to me. My mail was answered immediately.

RAINER SEIDEL
Master carpenter from Wiesbaden
Had to replace a lamp, but the same was no longer available. Great advice, found a suitable replacement and delivered it quickly.
Light expert info
OSRAMD DULUX D LED - Product features
The popular LED compact fluorescent lamps with G24d bases enable fast and safe lamp replacement without having to replace the entire luminaire. The LED bulbs are available in different color temperatures and wattages, so you can easily find the right CFL alternative for CCG or line voltage.
It's not just the power-saving operation and long life that have a positive impact on the environment. LED lamps are free of toxic pollutants and are recycled after their demise.
The DULUX D LED is therefore the ideal replacement lamp for anyone who wants to comply with the 2023 RoHS Directive's ban on fluorescent lamps now.
DULUX D LED from OSRAM - areas of application
As an efficient and sustainable LED replacement for energy-saving lamps with a G24d plug-in base, the DULUX D LED is ideal for:
General lighting (-20...+35°C)
Supermarkets, stores & department stores
Corridors, aisles & passageways
Gastronomy & hotels
Note: The LED light sources can only be used in suitable luminaires in outdoor areas.

Advantages of the DULUX D LED from OSRAM
The high-quality LED replacement for compact fluorescent tubes offers numerous advantageous features that justify a change:
Fast lamp replacement without rewiring
Low energy consumption with long life
Compact design for easy lamp replacement
Rotatable base (± 90° around longitudinal axis)
Buy DULUX D LED at WATT24
In the WATT24 store you will find a wide selection of replacement lamps for KLLni lamps with G24d bases of various color temperatures and wattages. You're sure to find the right LED bulb for your application. Note: When choosing your DULUX D LED, make sure the wattage matches your old fluorescent lamp