LED dimmer
LED dimmers are a practical solution to regulate the brightness of LED lights. Conventional dimmers require a minimum load to function properly, which is not reached due to the low energy consumption of LED lamps. Using compatible LED dimmers guarantees flicker-free operation and preserves the life of your LED lighting.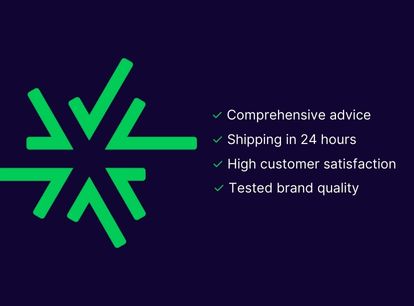 Comprehensive advice & support

over 10,000 articles in the shop
Shipping in 24 hours

thousands of satisfied customers

KATHRIN BRANDT
Employee Purchasing from Troisdorf
Great advice and friendly service. I was helped immediately and competently with any questions. Gladly again.

OMAR NASER
Office Manager from Frankfurt a.M.
Goods are well packaged and arrive safely, which is important to me. My mail was answered immediately.

RAINER SEIDEL
Master carpenter from Wiesbaden
Had to replace a lamp, but the same was no longer available. Great advice, found a suitable replacement and delivered it quickly.
Light expert info
What are LED dimmers?
LED dimmers are electronic devices designed to control the brightness of LED lights. Unlike conventional incandescent lamps, which are dimmed by changes in voltage, LEDs require special dimming techniques to provide uniform dimming.
The different types of LED dimmers
There are different types of LED dimmers based on different dimming technologies. The most common types are phase cut dimmer, leading edge phase cut dimmer and PWM dimmer.
Phase cut dimmer
Phase cut dimmers are the most common dimmers for LED lights. They are used for dimmable LED lights that are based on phase cut control. This type of dimmer provides smooth dimming and is widely used in many homes and commercial spaces.
Phase angle dimmer
Phase angle dimmers are designed for dimmable LED luminaires with phase angle control. They provide precise and smooth dimming and are suitable for demanding lighting applications where fine control of brightness is required.
PWM dimmer
PWM (pulse width modulation) dimmers are another option for dimming LEDs. They use a fast on/off method to control brightness. PWM dimmers are particularly well suited for use in professional lighting systems that require precise control.
Why should you dim LEDs?
1. It allows you to customize the lighting for different moods and needs. You can adjust the brightness depending on the room, time of day or activity.
2. Dimming LEDs helps to save energy. When you reduce the brightness, you reduce energy consumption and thus lower your electricity costs. LEDs are inherently energy efficient, and dimming increases this advantage.
3. Dimming LEDs can extend the life of LED fixtures. By reducing brightness, heat generation is contained, resulting in less stress on LEDs and increasing their lifespan.
Learn more about the topic here:
Finding the right LED dimmer
Before you buy an LED dimmer, you should consider some important factors to find the right dimmer for your LED lights.
Check compatibility
Make sure the LED dimmer is compatible with your dimmable LED lights. Not all dimmers work with all LEDs, so it's important to check compatibility. Check the product descriptions and technical specifications to make sure the dimmer is suitable for your specific LED lights.
Note the power range
Pay attention to the dimmer's power range. Dimmers have a maximum and minimum power limit they can support. Make sure the LED dimmer meets the requirements of your LED fixtures. A dimmer designed for low power may not work properly with high-power LEDs.
Consider operation and functions
Consider what operation and features you expect from your LED dimmer. Do you want a dimmer with a switch or remote control? Do you need additional features like a timer or memory function? Make sure the dimmer has the features you want to best meet your lighting needs.
Buy LED Dimmer at WATT24
WATT24 is a renowned provider of LED lighting solutions and offers a wide selection of LED dimmers from reputable manufacturers.
Advantages of buying at WATT24
When buying an LED dimmer at WATT24, you will benefit from many advantages:
High-quality products:
WATT24 offers only high-quality LED dimmers from well-known manufacturers. You can rely on the reliability and durability of the products.
Wide range of products:
WATT24 offers a wide range of LED dimmers. Whether you are looking for a phase-cut dimmer, phase-angle dimmer or PWM dimmer, you will find what you are looking for at WATT24.
Advice and support:
The WATT24 team is available to answer your questions and provide advice. You can count on competent support to find the right dimmer for your needs.
Fast delivery and customer service:
WATT24 places great emphasis on fast and reliable delivery. You can look forward to your order arriving promptly and safely. If you have any questions or problems, customer service is always available.