TRILUX Oleveon
Moisture-proof luminaires are used in industry, production and logistics halls, car parks or in covered outdoor areas. Often, only standard compliance and functionality are considered important. However, enormous potential is often wasted in this way. Modern LED moisture-proof luminaires, such as the TRILUX Oleveon, score with outstanding photometric values, enormous efficiency and smart functions, so that lighting quality in industrial and commercial applications is raised to a completely new level.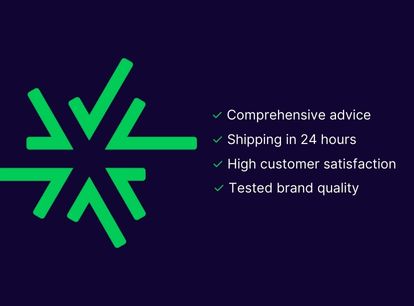 Comprehensive advice & support

over 10,000 articles in the shop
Shipping in 24 hours

thousands of satisfied customers

KATHRIN BRANDT
Employee Purchasing from Troisdorf
Great advice and friendly service. I was helped immediately and competently with any questions. Gladly again.

OMAR NASER
Office Manager from Frankfurt a.M.
Goods are well packaged and arrive safely, which is important to me. My mail was answered immediately.

RAINER SEIDEL
Master carpenter from Wiesbaden
Had to replace a lamp, but the same was no longer available. Great advice, found a suitable replacement and delivered it quickly.
TRILUX Oleveon - retrofitting made easy
The Oleveon Fit LED was specially designed against the background of a simple and quick refurbishment to modern and efficient LED technology. Not only the 2023 ban on fluorescent lamps makes conversion to LED luminaires indispensable.
High energy efficiency, optimised light distribution and long service life are also arguments in favour of switching to contemporary LED lighting.
With the Oleveon Fit LED, conversion is uncomplicated and quick. Thanks to the wide range of variants, a 1:1 replacement is possible in most cases without any problems - regardless of the manufacturer or model of the predecessor luminaire. The well thought-out housing and mounting concept also enables a considerable reduction in installation effort. In addition, the lighting can be flexibly and individually adapted to the prevailing conditions and requirements of the respective application by integrating sensor technology and light management.
Advantages of the TRILUX Oleveon
The Oleveon from brand manufacturer TRILUX offers numerous benefits that make the moisture-proof luminaire an attractive choice for many lighting projects:
Energy-efficient and environmentally friendly: thanks to LED technology, the TRILUX Oleveon is characterised by high energy efficiency. It consumes less electricity than conventional lighting systems and thus helps you save costs while protecting the environment.
Durable and maintenance-free: The TRILUX Oleveon has a long service life so that you need to replace lamps less frequently. It is also maintenance-free, saving you time and effort in maintenance.
Flexible and adaptable: Thanks to a wide range of variants, the lighting can be individually adapted according to application requirements and customer wishes. Sensor technology and light management systems such as LiveLink make the Oleveon a modern and intelligent lighting solution.
Refurbishment-friendly: thanks to its sophisticated design and well thought-out housing concept, the Oleveon can almost always be replaced 1:1 with the outdated lighting system. As a rule, no special fastening measures need to be taken during installation. Even during installation on site, the Oleveon still offers adjustment options, so that new designs and returns can be virtually ruled out.
Intelligent and programmable: the popular LiveLink technology enables individual configuration of the lighting and application-dependent retrieval of lighting scenarios that can be reprogrammed quickly and flexibly as required. Tip: Monitoring the lighting system or networking the Oleveon is also easy thanks to LiveLink.
Oleveon - Areas of application
The Oleveon Fit LED is used in all areas where lighting must be robust against external influences such as dust or moisture.
Especially under adverse conditions, the use of standard-compliant lighting is indispensable. However, the Oleveon not only offers functionality in accordance with regulations. With the modern moisture-proof luminaire, TRILUX sets new standards in terms of lighting quality and modernity - and at an unbeatable price.
Thus the Oleveon LED offers the perfect solution for the illumination of:
Industrial halls and production halls
Warehouses and logistics
Car parks and (underground) garages
Staircases, entrance areas and corridors
Covered outdoor areas
Carports
Garages
Cellar areas
Sanitary facilities
Buy TRILUX Oleveon at WATT24
The TRILUX Oleveon is the ideal solution for anyone who wants to raise their lighting to a new level. With its numerous advantages, such as high energy efficiency, durability and flexibility, it offers an optimal lighting solution for various application areas. Discover the TRILUX Oleveon and other high-quality products for your lighting projects and benefit from the reliable customer service of the WATT24 lighting experts.
Contact us