TRILUX Luceo
The Luceo series from TRILUX offers modern lighting solutions for office and educational facilities that meet the high demands on design, functionality and lighting quality. In doing so, the efficient and modern series covers the requirements of the most diverse areas with the appropriate products, so that projects can be realized holistically and with the highest design demands.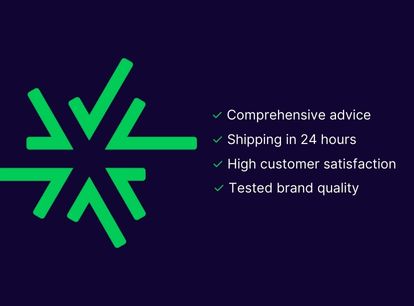 Comprehensive advice & support

over 10,000 articles in the shop
Shipping in 24 hours

thousands of satisfied customers

KATHRIN BRANDT
Employee Purchasing from Troisdorf
Great advice and friendly service. I was helped immediately and competently with any questions. Gladly again.

OMAR NASER
Office Manager from Frankfurt a.M.
Goods are well packaged and arrive safely, which is important to me. My mail was answered immediately.

RAINER SEIDEL
Master carpenter from Wiesbaden
Had to replace a lamp, but the same was no longer available. Great advice, found a suitable replacement and delivered it quickly.
Light expert info
Luceo series: various luminaire models
Luceo Slim LED ceiling luminaires
The Luceo Slim luminaires can be used both as pendant and surface-mounted luminaires. It convinces with a wide, homogeneous light emission surface, which ensures healthy and concentrated working and learning. There is a choice of two lengths and luminous flux packages, as well as accessories for installation. If required, the individual modules can be extended by means of connectors to form a continuous row with a continuous light emission surface. In terms of design, the Luceo Slim LED convinces with its flat, filigree construction and a modern, timeless design language.
Tip: In combination, the Luceo series can be used to implement large, complex projects that allow maximum flexibility and individuality thanks to the modular concept.
Luceo Slim free-standing luminaires
The Luceo family of free-standing luminaires provides standard-compliant light independent of ceiling lighting. Thus, the modern free-standing luminaires form the ideal solution for office landscapes in which flexible lighting requirements are made.
The Luceo free-standing luminaire is available both as a single-head version and as a double-head version. The free-standing luminaires can be conveniently controlled via app or wall switch and, depending on the model, can call up individual light scenes or health-promoting HCL curves. And if a change of workplace is imminent, no problem - the smart luminaire is simply taken along.
Application areas of the TRILUX Luceo
The TRILUX Luceo finds application in various areas, including:
Office buildings and workplaces
In office buildings, efficient lighting is of great importance to create a pleasant working environment. The TRILUX Luceo offers individual and flexible lighting solutions for offices, conference rooms and workplaces that improve the comfort and productivity of employees.
Educational facilities
In schools and universities, lighting plays an important role in the learning environment. With the TRILUX Luceo, educational institutions can implement energy-efficient lighting solutions that support the learning process and create a pleasant atmosphere.
Retail stores
In retail stores, lighting is an essential part of visual marketing. The TRILUX Luceo can create a welcoming environment and present products in the best possible way to attract the attention of your customers.
Advantages of the TRILUX Luceo series
Thanks to numerous advantages, the Luceo luminaires from TRILUX form the ideal lighting solution for all applications in the office sector and in education:
Best light for employees, teachers and students: Highest light quality and the wide, glare-free light emission surface ensure a pleasant light sensation that promotes health and concentration.
Easy conversion to LED: Luceo luminaires offer the option of easily and quickly converting conventional lighting systems with T5 and T8 luminaires to modern LED technology. Luceo thus offers the optimum solution for responding to the fluorescent lamp ban.
Modular flexibility for future-proof lighting systems: Thanks to modular design, lighting systems with Luceo luminaires can be adapted to new conditions or changing usage patterns in no time at all. Smart additional functions such as sensors can also be easily integrated at a later date using the modular principle.
Buy TRILUX Luceo at WATT24
In our store you will find a wide range of models and accessories of TRILUX Luceo. By buying at WATT24, you will also benefit from numerous advantages:
Extensive selection: WATT24 offers a diverse selection of TRILUX Luceo products, so you can find the right lighting solution for your needs.
Quality products: WATT24 places great emphasis on quality and only offers products from reputable manufacturers such as TRILUX. You can rely on the reliability and durability of TRILUX Luceo.
Competent advice: The WATT24 team is ready to assist you with expert advice. If you have any questions about the products or how to choose the right lighting solution, you can rely on their support.
Fast shipping: WATT24 will ensure that your order is shipped quickly and reliably so that you receive your TRILUX Luceo as soon as possible.
Customer service: In case of any problems or questions, WATT24 offers an excellent customer service that will be happy to help you.