Office: Is the conversion from louvre luminaires to LED panels worthwhile?
Your lighting expert will explain: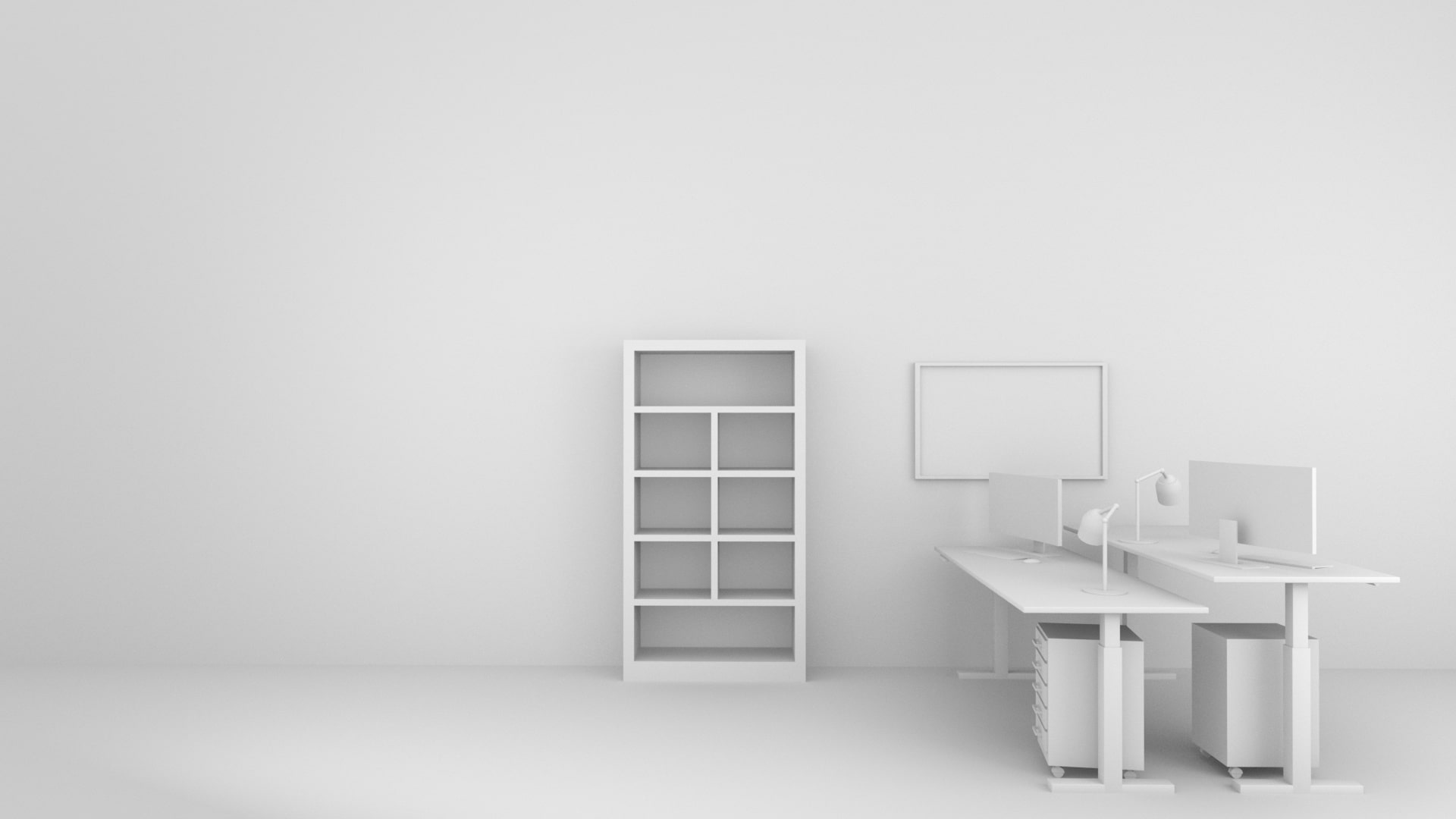 Cumbersome maintenance of louvre luminaires has long since become obsolete; it is much easier with LED panels.
The right workplace lighting plays an important role in the health, performance and well-being of your employees. It is not without reason that there are a number of standardised product characteristics that office lighting must fulfil.
On the one hand, attention must be paid to illuminance, measured in lux. An office workstation should be illuminated with at least 500lx. More individuality can be created with dimmable illuminants. This allows each employee to adjust the light to his or her personal needs.
The right light colour is also crucial. This consists of the colour temperature and the colour rendering index.
Neutral white light with a colour temperature between 3,300 and 5,300 Kelvin creates a sober working environment that promotes concentration. The colour rendering value should be at least CRI 80 to ensure that natural colours are reproduced as naturally as possible.
Glare-free illumination of work areas is important so that your employees can work in a concentrated and undisturbed manner. A monitor workstation requires a UGR (Unified Glare Rating) <19.
In addition, the office light must not flicker or flicker, because this is not only annoying, but also causes headaches.
Is a conversion worthwhile on LED lamps?
To answer this question, we converted an office of about 30m² from louvered luminaires to LED panel lights. The aim was to enable the lighting of two workstations independently of each other. We compared the light and costs before and after using the following factors:
– Number of lights
– Uniformity of the light
– Energy consumption
– Investment costs
– Conversion costs
Does my light improve
with the retrofit?
Six louvered luminaires, each with four 18W FL lamps, had previously been installed in the Odenwald ceiling. We installed eight Trilux Siella LED panel luminaires to illuminate the workplaces with four luminaires each independently.
Before the conversion, the luminous intensity was distributed as follows:
Particularly noticeable here is the unbalanced light distribution between the two workplaces, as well as the large differences in lighting at the respective measuring points. In addition, separate lighting of the two workstations was not possible.
After the retrofit, a clearly different picture emerged:
The illumination of the two workplaces is evenly distributed and the differences at the various measuring points are also significantly smaller. Since four panels are assigned to each workstation, they can now
be illuminated independently of each other.
The differences in the brightness and uniformity of the light are clearly visible: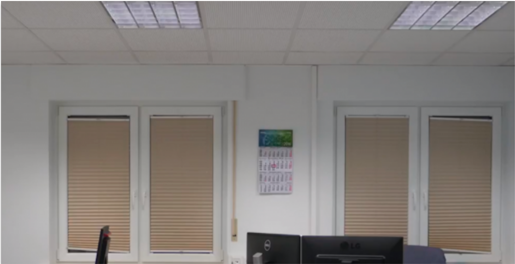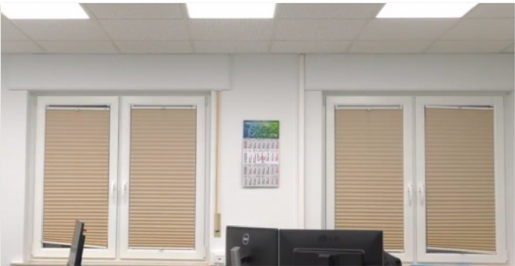 The light in the room is therefore not only measurably improved by the conversion, but also perceptibly.
In this video you can see how well the Trilux Siella compares with other LED panel lights:
Is it worthwhile to change the luminaires in my office?
LED lights consume significantly less energy than fluorescent lamps. However, how quickly the investment in converting to LED pays for itself depends on how often and for how long the light is switched on.
For the lighting of a storeroom, which is entered about once a month for a short time, the purchase of an LED light is usually only worthwhile after a long time (if it is worthwhile at all).
For the lighting of offices, medical practices or other commercial areas, but also for residential areas, the investment usually pays for itself within a few years.
The TRILUX Siella LED, which we used to replace the louvre luminaires, has an energy consumption of 31.7 watts. The old louvre luminaires were illuminated with 4×18 Watt fluorescent lamps, so each luminaire had an energy consumption of approx. 90.1 Watt.
The total consumption in comparison:
old louvre luminaire

new LED-Panel
Wattage
90,1 W
31,7 W
Consumption of all lights in Watt
540,6 W
253,6 W
Consumption of all lights per day
in kWh (8h)
4,32 kWh
2,05 kWh
Consumption per year in kWh
(220 working days)
950,4 kWh
451,00 kWh
Energy costs per year (0,3 € / kWh)
285,12 €
135,30 €
At a kilowatt price of 30 cents, you save over 50% of the energy costs for an average use of office space (8 hours a day, 220 working days a year).
How high are the Investment costs?
Of course the investment costs depend on the price of the new LED lights. Meanwhile, there are high-quality LEDs with very good light quality at reasonable prices.
Thus, the new lighting pays for itself after a few years with energy savings of over 50%.
The significantly longer service life of LED lights must also be taken into account. While a fluorescent lamp lasts for 11,000 hours on average, LEDs last almost five times as long at 50,000 hours.
Added to this is the working time required for conversion. With Odenwald ceilings, however, this is more than manageable at around 30 minutes!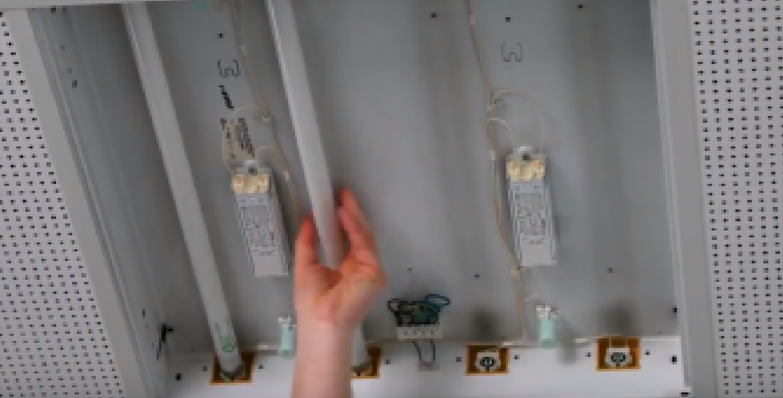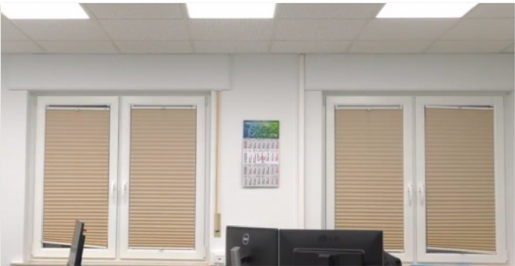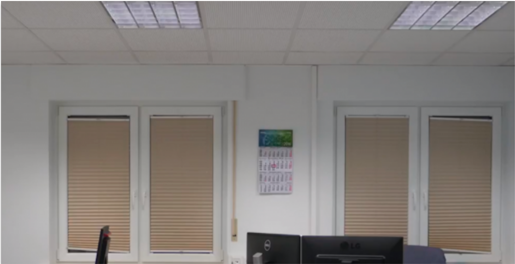 Not a problem. Even more energy can be saved in conjunction with lighting management systems. The simple and fast control also ensures maximum convenience and extreme flexibility! We recommend the light management system from Casambi.
Small modules are connected to the light and it can be easily controlled and dimmed using the free Casambi app - simply via Bluetooth. Find out more in our Casambi theme world.